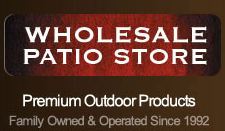 (PRWEB) November 12, 2012
Wholesale Patio Store, the online retailer of premium outdoor products, is continuing their company's expansion as demand for their products rise. This comes as good news to consumers seeking outdoor products online at low prices throughout the year. The online retailer is ready to meet the growing demand and is set to continue its steady growth into the upcoming holiday season and beyond.
Wholesale Patio Store has added many new products to their already vast inventory of high quality outdoor products. They've expanded on their collection of BBQ grills, outdoor kitchens, outdoor kitchen appliances, lynx grills and more. In addition to inventory, Wholesale Patio Store is focused on expanding its special discounts, sales and Hot Deals. These offers include more available special financing, free delivery on most items, price match guarantees against competitors, and significantly slashed prices on select items and more.
As a family owned and operated business since the early 1990's, Wholesale Patio Store has watched their inventory expand exponentially over the years. Today they offer some of the internet's biggest selections on top brands like American Outdoor Grill, Bull BBQ, Alliance Outdoor Lighting, Lynx, Patio Comfort, Sunstone and more, at the lowest prices. They have emerged as a leading source of quality built in grills, BBQ islands, portable grills, natural gas grills, and more. Wholesale Patio Store is proud of their continuous growth and their dedicated to sharing this success with their customers during this upcoming holiday season and beyond.
About Wholesale Patio Store
Wholesale Patio Store is a family owned and operated premium outdoor products retailer founded in 1992. They maintain brick and mortar retail locations in California and Kansas, in addition to a full service construction business located in Northern California's famous Bay Area. Their staff is highly knowledgeable and focused on customer service. They offer a large inventory of outdoor products, including BBQs, outdoor kitchen appliances, patio furniture and more. They offer fast delivery and satisfaction guarantees. For more information, visit http://www.wholesalepatiostore.com or follow them on Facebook, Twitter, Google+, or LinkedIn.