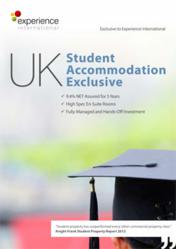 "Student housing is top UK property asset,"

- The Financial Times, Nov 2012
(PRWEB) November 14, 2012
The student accommodation investment market may be considered a relatively new growing sector however, according to Savills, it has 'performed well over the last 5 years, showing average annual total returns outperforming many commercial property asset classes'.
The Spotlight on Student Housing Summer 2012 market research by Savills illustrates that the 'supply growth is severely constrained despite a relatively healthy flow of development activity during the downturn in prime locations'. It seems that despite the economic downturn, investment in key university locations across the UK has remained stable.
Savills anticipated that the student accommodation sector will see an injection of £2billion of investment in 2012, which includes the £600million already traded to the end of April 2012.
This has proven to be correct as the CBRE UK Student Housing MarketView Q3 2012 reported that student accommodation transaction volumes hit £2bn for first 9 months of 2012, up by 145% on 2011.
With such an influx in investment, Savills predicts that the long term prospects for this form of buy-to-let-property will remain strong while 'the demand-supply imbalance in the sector should ensure rental growth'.
New Student Property Investment Opportunity
To answer to the demand for new-build student accommodation investment, London property agent, Experience International, has launched a new, high-yielding student property investment in Liverpool which offers investors 9.4% NET returns per annum, assured for 5 years.
The new 7 storey development has been designed specifically for a mix of first year undergraduates, more senior students and post graduates. Within the 6 storeys of student accommodation, above the ground floor retail unit, there are 66 en-suite bedrooms located in groups of three to five rooms, each with a common room with kitchen and lounge facilities. In addition there are 26 studios which are self-contained with their own mini-kitchen and bathroom.
"We're pleased to launch this new student accommodation investment to the market, which offers a low entry into this strong performing sector," Steven Worboys, MD of Experience International commented. "This development is strategically located near 3 of Liverpool's main universities and offers investors a 9.4% NET yield, which is assured for 5 years."
Liverpool's Student Accommodation Investment Market
Liverpool is one of the most established centres in the UK for higher education and is home to a number of leading institutions including the University of Liverpool, Liverpool John Moores University, Liverpool Hope University and The Liverpool University of Performing Arts.
The city's combined student population currently stand at 53,000 – almost 12% of Liverpool's total population – with students from over 100 countries in the world enrolled.
The number of overseas students in Liverpool is increasing with overseas students making up 11% of students attending the University of Liverpool, 8% attending John Moores University, and 4% at Liverpool Hope University (Source: UCAS).
Appealing to international students, the development's ground floor will have a reception desk with concierge, 24 hour security with secure door entry, meet and greet area, seating areas, payphones, laundry facilities and bike storage.
Experience International has exclusivity on a number of these new rooms aimed towards the student accommodation investment market. To request your complimentary investment brochure, contact them today on 0207 321 5858 or email enquiries(at)experience-international(dot)co(dot)uk.