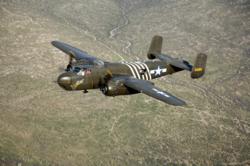 Key Largo, FL (PRWEB) November 13, 2012
History Flight, Inc., a non-profit foundation, will bring the North American B-25H Mitchell "Barbie III" to Ocean Reef Club during Vintage Weekend. Made famous in the Doolittle Raid on Japan, the first retaliatory strike after the U.S. entered WWII, the B-25 became a symbol of American airpower during the war. The B-25H "Barbie III" owned and operated by History Flight, Inc. is the last H-model B-25 flying in the world and is the only one equipped with the unique 75mm cannon in the nose for ground attack purposes. Passenger flights on the B-25 can be reserved, and all proceeds fund History Flight's ongoing research and recovery expeditions to bring Missing in Action servicemen home from their burial sites in remote battlefields of WWII.
Ocean Reef Club announced this new exciting highlight to its upcoming Vintage Weekend, a four-day event showcasing some of the world's finest classic and antique yachts, aircraft and automobiles. The 18th Annual Vintage Weekend will take place from Thursday, November 29–December 2, 2012 at the renowned private club in the Florida Keys.
The prestigious show brings together classic yachts, revered automobiles and an impressive collection of meticulously restored working aircraft, which will fly in to Ocean Reef Club's own 4,456-foot lighted runway. At this year's event, history enthusiasts will have the opportunity to fly as a passenger on one of only 25 WWII B-25 bombers still in existence. In addition, the beautifully restored presidential yacht of John F. Kennedy, Honey Fitz, will also be on display.
Honey Fitz, President Kennedy's 92-foot motor yacht, is now privately owned and has been completely refit and upgraded by Moores Marine. Built in 1931 and christened the Lenore, Kennedy renamed the yacht Honey Fitz, the nickname of his beloved grandfather, John Francis Fitzgerald, a two-time mayor of Boston. A life-long lover of the sea, Kennedy enjoyed the yacht with his family on the Potomac, and in Newport and Palm Beach. Although much of the vessel's structure was replaced,
OCEAN REEF B-25 BOMBER AND JFK YACHT/2
her interior and galley remain very much the same as when Kennedy used her for meetings and getaways.
The four-day celebration of antique and classic aircrafts, automobiles and yachts brings together those who own and appreciate these conveyances, with a full schedule of social gatherings that include a tailgate party, road rally, champagne and ice cream social, fascinating lecture, vintage aircraft aerobatic show, dinner dance and awards presentation.
Though the renowned club is a private member-owned community, non-member guests are invited to experience Ocean Reef Club's unique way of life through this one-of-a-kind event. For information and reservations on Ocean Reef Club's Vintage Weekend experience, please call the Membership Office at 305-367-5874 or visit http://www.oceanreef.com.
Ocean Reef Club: Experience a Unique Way of Life
Nestled in 2,500 secluded, tropical acres on the northernmost tip of Key Largo in the Florida Keys, Ocean Reef Club is considered one of the country's most comprehensive communities. Offering 1,700 waterfront estates, private homes, condominiums and boat slips, Ocean Reef Club also features an oceanfront Inn, full-service spa and salon, and an array of dining and shopping options. Leisure amenities include a 175-slip marina for boating, fishing and diving; two 18-hole championship golf courses; world-class tennis and lawn sports; jogging and cycling paths; cooking school; nature center; art league; cultural center; range of children's activities and programming; and more. The Club is also equipped with a fully staffed Medical Center, gourmet grocery store, veterinary care and The Academy, an independent Pre-K3-8th grade "school within a school." Located within an hour from Miami International Airport and 1.5 hours from Fort Lauderdale/Hollywood International Airport, Ocean Reef Club is also serviced by its own 4,456-foot lighted runway.