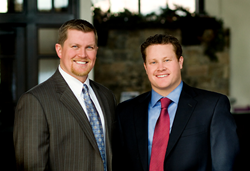 (PRWEB) November 13, 2012
Christensen & Hymas recently recovered an undisclosed settlement amount from Allstate Insurance. Their client was a motor-vehicle accident victim who suffered severe memory loss after his car was rear-ended on the freeway. The man was stopped in a construction zone when another motorist, traveling at 65 mph, took his eyes off the road while reaching for a buzzing cell phone, looked up too late, and smashed into the man's car. This is not an isolated incident. According to the National Safety Council, "Distracted driving has become a serious health threat." They continue, "Distractions now join alcohol and speeding as leading factors in fatal and serious injury crashes."
The police report shows that the victim complained of a "strong headache and neck pain" at the scene of the accident, but it was weeks after the accident that the pain and associated memory loss caused the victim to contact an attorney.
Utah-based personal injury attorney Ken Christensen described the man's situation: "Imagine for a moment that you've been in a car accident and you have headaches and neck pain but believe them to be minor and will most likely heal on their own. After a week or so, you begin to forget simple things throughout the day, and after a month, your memory loss worsens to the point where you begin to forget almost every major event during the day. This seemingly bizarre and foreign prospect became a reality for our client. His memory was significantly altered because another motorist chose to reach for a cell phone after receiving a text message. The sad part of this story is the fact that the accident could have been prevented had the at-fault driver resisted the urge to answer his phone."
The research published by the National Safety Council (NSC) and the National Highway Safety Administration (NHSA) agrees with Attorney Christensen's assessment of possible prevention. The research indicates that even drivers who have their eyes on the road while speaking on a hands-free cell phone "look but fail to see up to 50 percent of the information in their driving environment". This is a major impairment, an impairment that would not exist if drivers resisted enticing distractions like cell phones. Both the NSC and the NHSA use the term "inattention blindness" to describe a distracted driving condition that manifests itself when using a cell phone while driving. This condition is likened to "tunnel vision."
Attorney Ken Christensen said, "Whether you are reaching for a ringing cell phone, texting, eating, putting lipstick or eyeliner on, or attempting to give a baby a bottle, any activity that takes your attention from the road, in my opinion, is considered a distraction, and therefore could easily injure or even kill people."
According to leading research done by several University of Utah (U of U) professors, Attorney Christensen's statement may be considered more than opinion. U of U professors Dr. Jason M. Watson and David L. Strayer's research showed that the common belief that people have the ability to do more than one thing at a time (aka multitasking) is a myth. The NSC iterates this research by stating, "Human brains do not perform two tasks at the same time. Instead, the brain handles tasks sequentially, switching between one task and another. Brains can juggle tasks very rapidly, which leads us to erroneously believe we are doing two tasks at the same time. In reality, the brain is switching between tasks—performing only one task at a time."
The research of doctors Watson and Strayer also states that "using a cell phone while driving can be considered as dangerous as drunk driving." The Centers for Disease Control and Prevention reported, "Every day, almost 30 people in the United States die in motor vehicle crashes that involve an alcohol-impaired driver. This amounts to one death every 48 minutes."
"Whether it's answering a ringing cell phone, changing the music on your ipod, or reaching back to give a child a treat, the possibility of wiping a person's memory forever is not worth it," warns attorney Ken Christensen. "My client's injury has taught a clear message: There is no distraction worth the lasting feeling of guilt that can come from a moment's inattention."
About: Christensen & Hymas, Personal Injury Lawyer Utah
The personal injury attorneys at Christensen & Hymas represent clients who have been injured in car accidents, Utah bicycle accidents, dog bites, or a client who has lost a loved one in a wrongful death in Utah. They have won cases amounting to millions of dollars, which have ultimately enabled those who have been injured to better deal with the effects of personal tragedy that accompanies wrongful injuries. They have also written multiple free accident books, covering in detail how to handle a personal injury and the repercussions therefrom.
For a free consultation with a Utah personal injury attorney, call Christensen & Hymas today at (801) 506-0800 or visit their website at http://www.utahpersonalinjurylawfirm.com/.
Christensen & Hymas:
Main Office -- 11693 S. 700 E. Ste. 100, Draper, UT 84020 -- (801) 506-0800 -- Fax: (801) 506-0801
Utah County Office -- 584 S State Street, Orem, UT 84058 -- (801) 224-2999
Davis County Office -- 503 West 2600 South #200, Bountiful, UT 84010 -- (801) 294-9500