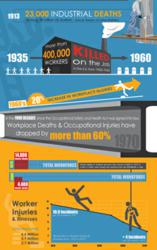 Infographics are a popular way to simplify complex data.
Portland, OR (PRWEB) November 13, 2012
Graphic Products, Inc., manufacturers of DuraLabel industrial systems, has released four infographics illustrating trending workplace safety messages. These infographics are available for all to view or download at http://www.duralabel.com/infographics. Businesses and other organizations are encouraged to embed them in their own websites.

Infographics are a popular way to simplify complex data. They're widely used by USA Today to illustrate social, economic and geographic information. What all have in common is impact and imagery – whether they incorporate tables, pie charts, flow charts, diagrams, graphs, drawings or symbols.
The Arc Flash Boundary, OSHA Workplace Safety, Globally Harmonized System and Deadliest U.S. Jobs & Cities infographics were created by graphic designer Joe Hanson and are based on research from the Bureau of Labor, OSHA and other sources.
Over the past two years, Graphic Products, Inc. has expanded its workplace safety library to include:
Lean manufacturing, hazardous materials labeling, workplace safety, food processing, confined space and OSHA safety best practice guides
Pipe marking, 5S and arc flash webinars
Short, instructional videos about visual communications for the mining industry, wire and cable marking, applying labels to oil surfaces and creating wayfinding labels
DuraLabel applications include pipe marking, arc flash, wayfinding, lockout/tagout, mine safety, wire marking, barcoding and floor marking. Every DuraLabel printer purchase includes a three-year warranty, DuraLabel creation software and free technical support for life. DuraLabel has also introduced code compliant labeling supplies for BoldGlo phosphorescent tapes, health & safety labels, valve tags and premium ribbons.
Graphic Products manufactures a broad spectrum of industrial labeling equipment for global companies such as Amazon.com, Boeing, Intel and Toyota. With more than 50 types of labeling supplies, Graphic Products, Inc., helps companies solve communication problems in the toughest industrial environments.