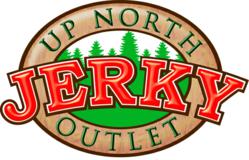 Authentic game jerky from Northern Michigan is world famous for its unique flavor and texture
Troy, Michigan (PRWEB) November 13, 2012
Up North Jerky Outlet sales are surging with the opening of Michigan's firearm deer season November 15, 2012. Every year over 500,000 hunters take to the woods and fields of Michigan to bag over 200,000 deer, many of them trophy quality. Premium jerky from Up North Jerky Outlet is one of the most important provisions carried into the field by hunters from Michigan and across the Midwest. The Michigan firearm deer seasons ends November 30.
Jerky is fast becoming one of the most popular snack foods in the country, but in Michigan it has long been a favorite with hunters and fisherman. There has been a remarkable increase in the number of jerky producers and the variety of flavors available. The increase in flavors and types of jerky is directly related to the old time smokehouse tradition of Northern Michigan. Hunters headed to Northern Michigan have long known about the custom smokehouse tradition of Michigan beef, turkey and wild game jerky. Up North Jerky Outlet has captured that tradition and made it commercially available online or in retail stores nationwide.
Deer hunters make a habit of taking several packs of jerky into the field. Hunting camps often pool their resource to buy jerky and hunters sausage in bulk. Up North Jerky Outlet caters to hunting camps with bulk pack of 2 lb, 4 lb and 8 lb pound beef and turkey jerky. In addition to beef, turkey and game jerky, hunters sausage available in a variety of flavors and sizes, including bulk packs up to 5 lb.
Up North Jerky Outlet mini hunters sausage are delicious 4 inch jerky sausages available in a variety of flavors including original, teriyaki, hot, jalapeno, garlic, cherry and pepper bacon. Mini hunters sausage complement the regular Up North Jerky product line of beef, turkey and wild game jerky. Scott Christ, National Sales Manager for the Up North Jerky Outlet, points out that jerky lovers typically buy a pack of hunters sausage along with a pack of beef, turkey or wild game jerky. "Hunters sausage come in so many delicious flavors and are a less expensive than beef or game jerky by weight."
Authentic game jerky from Northern Michigan is world famous for its unique flavor and texture. Up North Jerky Outlet venison, elk and buffalo jerky is available in a variety of flavors and styles. The premium variety is the Gourmet Gold Series product line. Choice cuts of whole muscle meat are marinated with special spices and naturally smoked to perfection. The cuts are a little thicker and the drying process is not taken to completion. The result is a thick cut smoked jerky that is moist and tender with a wonderful flavor.
Up North Jerky Outlet also has a full product line of beef jerky, turkey jerky, wild game jerky and jerky sausage. For a more complete description of available products for resellers log on to the Up North Jerky Outlet business website at http://www.upnorthjerkyoutlet.com.
For complete information visit our retail website http://www.upnorthjerky.com
Contact Section
Up North Jerky Outlet
1437 Rochester Rd.
Troy, Michigan 48083
SALES(at)UPNJO(dot)COM
Phone: 248 577-1474