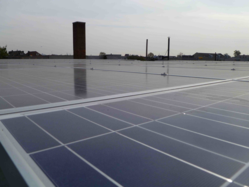 It really made a lot of sense for the company from a financial standpoint
Bronx, NY (PRWEB) November 12, 2012
Just Bagels, Inc, a manufacturer of 100% natural bagels distributed in all fifty states, based in the Hunts Point section of the Bronx, has been reaping the benefits of solar energy produced right on their roof top for well over a year now.
The company, estimates that the two solar systems installed on site totaling over 98,000 watts, which came on-line in 2011, will save the company about $25,000 per year on its power bills while producing a CO2 savings of approximately 5,000 lbs annually.
Ross Solar Group LLC, a family owned and operated solar design and installation company, named Sunpower Commercial Dealer of the year in 2011, installed the robust Just Bagels PV system that included 432 solar panels mounted on a custom designed steel dunnage superstructure at Just Bagel's Casanova Street facility. "We were thrilled to partner with a great company like Just Bagels and to help them reduce their energy costs while simultaneously protecting the environment," says Ross Solar co-owner Joshua Ross.
Just Bagels CEO, Charles Contreras, said the company had considered investing in solar power for several years, and decided to make the investment after Ross Solar Group's commercial sales manager, Robert Kline, helped them take advantage of a variety of Federal, State, and Local incentives that paid for virtually the entire cost of the installation. "It really made a lot of sense for the company from a financial standpoint, and was truly a win win; not only for Just Bagels and Ross Solar, but also for the neighborhood, the State, and of course our customers as well," he said.
Ross Solar Group (RSG), LLC is a family owned and operated solar installation company. RSG has installed over 9mW of solar energy systems in the tri-state area. RSG has been awarded PON 2156 and PON 2484 funding under the NY Sun Initiative program. RSG has installed commercial solar system for Pfizer, Walmart, Bed Bath & Beyond and more.