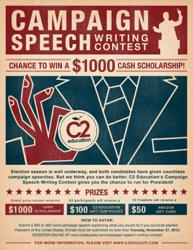 This new deadline gives students a second chance to enter to win a $1,000 cash scholarship.
Atlanta, GA (PRWEB) November 14, 2012
In honor of the recent election, C2 Education has been holding a Campaign Speech Writing Contest. Because many students in the states affected by Hurricane Sandy were left without reliable power or internet, C2 Education has decided to extend the contest submission deadline to Tuesday, November 27.
Participants in the Campaign Speech Writing Contest are competing to win a $1,000 cash scholarship. Ten finalists will receive $50 Amazon gift cards, and all participants will receive $100 C2 Education gift cards. This is an excellent opportunity for students to earn money for college while also exercising their writing and critical thinking skills.
The contest is open to all students in grades 6 through 12. Participants must submit a 300-400 word written campaign speech explaining what they would do if they could be elected President of the United States.Entries are due no later than November 27; all entries can be submitted online.
ABOUT C2 EDUCATION
C2 Education was founded as an in-home tutoring service run out of a Harvard dorm room in 1997. From those humble beginnings, C2 has grown to include more than 120 tutoring centers across the country serving thousands of students each week.
C2 students enjoy fully customized programs, one-on-one interaction with highly qualified teachers, and the support needed to succeed throughout their educational careers. C2's results speak for themselves: C2 students increase their SAT scores by an average of 350 points, 100% of C2 students pass state standardized tests, and 85% of C2 students go on to attend a top 50 college or university. To learn more about C2 Education, visit http://www.c2educate.com.