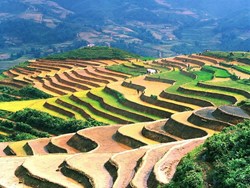 Just with $ 250 - $750, tourists can get a joyful trip in 6 days and 5 nights departing from Hanoi, Vietnam
(PRWEB) November 13, 2012
This Autumn expects a large number of international tourists to Vietnam, especially Sa Pa. At present, there are many attractive Tours in Sa Pa offered by Vietsmile Travel, one of the top travel companies in Vietnam. Booking tours with Vietsmile Travel, customers will have chances to get big deals for each package. Reaching one of the most attractive beauty spots in Vietnam is now quite easy and cheap. The company always ensures to bring customers the best service for tours in Sa Pa.
Mentioning about Vietnam, travelers will never forget to tell about Sa Pa, the wanted destinations of millions of international tourists. In fact, considered as the top beauty spot in the country, Sa Pa is really worth visiting. This season is the best time for a trip to this ideal tourist attraction; therefore, Vietsmile Travel is putting emphasis on tour packages to Sa Pa. Accordingly, customers booking tours at this time will have chances to get cheap tours with the high-qualified and attractive service. Besides, Vietsmile also gives its priority to its customers who use its other services such as hotel, flight ticket, and visa.
Situated in Lao Cai province - a land of natural and peaceful beauty, Sa Pa lures a vast number of tourists annually. Both domestic and foreign visitors fall in love with the wild and enchanting beauty of the place, made up of the creativity of people and the topography of the mountains and forests. Sa Pa has long been said to own invaluable sources of the cool climate, nuanced diversity, and fresh air. Moreover, there are a variety of hill tribes, rice terraces, lush vegetation, and the highest peak in Vietnam. Recognized as one of the most beautiful and magnificent terraced fields in the world, Sa Pa is named as "the ladder to the sky". Looked from the altitude, the whole town is likely to be immersed in floating clouds as a magical city in the mist.
Apart from its stunning nature, Sa Pa is also famous for its cultural diversity of ethnic minorities living here. Coming to Sa Pa, tourists will join and discover many interesting things in Love Market, where boys and girls get together looking for their partners. They perform traditional love songs and dance throughout the night. Tourists will see various ethnic minority people who are in their colorful and traditional costumes since Sa Pa is home to many hill tribes with four main groups of Hmong, Yao, Tay and Giay ethnic minorities.The special thing is that they can speak English very well. Then, tourists can meet a 5-year-old boy who can speak English more fluently than Vietnamese.
Arriving to Sapa, adventurous travelers should not miss the opportunities to challenge themselves by climbing Fasipan – the Mount Everest of Vietnam topping out at 3,143 meters. Also, they could trek to various villages through paddy fields. For the less adventurous, some other villages such as Lao Chai could be accessible via van, zip, or bicycle. Yet, they could leaning on the balcony of the hotel, overlooking the scenic valleys surrounded by layer and layer of clouds and serving themselves a cup of beer at sunset and enjoying peace in minds.
Reaching Sa Pa is not only the dream of many Vietnamese people but also international ones, who are interested in discovering the most wonderful corners on earth. No longer is it difficult for them to reach their dream land because Vietsmile has launched optional cheap tours to Sa Pa. Ensuring about the service quality, Vietsmile brings customers with the most satisfaction and interest. Just with $ 250 - $750, tourists can get a joyful trip in 6 days and 5 nights departing from Hanoi. Furthermore, many attractive packages with big offers are optional and available on the website of Vietsmile Travel. Book Now to get a great trip in Sa Pa and have an unforgettable and wonderful experience in the greatest place of Vietnam.