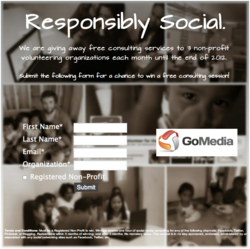 GoMedia is excited to be able to help non-profits understand the benefits to an organization's long-term success through the use of social media
Fort Collins, CO (PRWEB) November 13, 2012
GoMedia, a division of GoAbroad.com, has launched a new initiative called "Responsibly Social" which aims to increase their social responsibility by offering free social media consulting to volunteering non-profits. The suite of online marketing solutions for international education includes a product called GoSocial, a social media management and consulting service.
According to GoMedia's blog, "GoMedia is excited to be able to help non-profits understand the benefits to an organization's long-term success through the use of social media. If you are a volunteering non-profit and would like some free advice on how you can better utilize social media, enter to win a one hour consultation with GoMedia! We will be choosing 3 volunteering organizations each month until the end of the year!"
Click here to nominate your organization for free social media consulting!
GoMedia has been successfully managing social media for several international education organizations, and has also been praised for their consulting services, their free social media eBook, as well as various webinars and NAFSA presentations.
For more information regarding the Responsibly Social initiative, GoSocial, or GoMedia, contact GoMedia by email: GoMedia@GoAbroad.com
About GoAbroad.com
GoAbroad.com has been the web's premier resource for meaningful international experiences and alternative travel opportunities for more than a decade. The site boasts the largest and most comprehensive travel directories available online, while providing the most up-to-date and accurate information on programs available worldwide. GoAbroad.com's GoMedia services also offer a distinct range of internet marketing solutions for international education, including website design and comprehensive social media management.