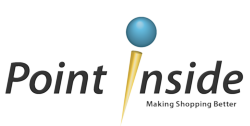 Seattle, WA (PRWEB) November 15, 2012
Point Inside is excited to announce that it won the ad:tech Innovation Award and the Gap Shopper Marketing Challenge at the New York ad:tech conference Startup Spotlight on November 7th, 2012.
Point Inside was initially selected as one of four finalists out of a pool of hundreds to present to executives at the Gap. Judges from the Gap included: Ann Cleveland – Director of Media for Athleta, Piperlime and Gap Outlets/Banana Republic Factory Stores at the Gap, and Tricia Nichols – Global Lead of Consumer Engagement, Media Innovation & Partnership for Gap Brand. Winning the competition also gives Point Inside the opportunity to take the pitch in-house at The Gap.
"We are thrilled to have been selected by the Gap to win their Shopper Marketing Challenge," said Todd Sherman, CMO of Point Inside. "The Gap is highly customer-centric and we think the Point Inside shopper engagement platform will help them use our unique mobile technologies to connect with their customers through personalized and relevant messages."
About Point Inside
Point Inside is the award-winning mobile shopper engagement platform that uniquely uses multiple mobile technologies, including indoor location, to provide brick-and-mortar retailers with personalized marketing capabilities. The platform, offered through retailers' branded mobile applications and channels, helps retailers, brands and manufacturers increase revenues and achieve more measurable sales results by giving customers a real-time, in-store retailer connection that saves them time and money. Privately-held Point Inside is based in Bellevue, WA. More information can be found at http://www.pointinside.com/company/about-us/.
About Gap Inc.
Gap Inc. is a leading global specialty retailer offering clothing, accessories, and personal care products for men, women, children, and babies under the Gap, Banana Republic, Old Navy, Piperlime, and Athleta brands. Fiscal 2011 net sales were $14.5 billion. Gap Inc. products are available for purchase in about 90 countries worldwide through about 3,000 company-operated stores, about 200 franchise stores, and e-commerce sites. For more information, please visit http://www.gapinc.com.
About ad:tech
For more than 15 years, ad:tech has provided media, marketing and technology professionals with the tools and techniques they need to succeed in a changing digital world. With 9 shows in 7 countries, ad:tech's globally respected roster of speakers, workshops and exhibitors continues to make it the preferred resource and destination for digital marketers everywhere. It's where marketers gather together to do business in a vibrant and exciting marketplace. For more information, please visit http://na.ad-tech.com/ny/