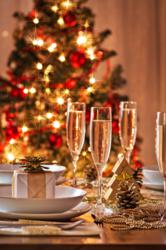 Thanksgiving is the traditional start of the ski and shopping season!
Lake George, New York (PRWEB) November 16, 2012
The Holidays are coming and The Georgian Resort in Lake George is the perfect place to enjoy a getaway and celebration with family and friends. Thanksgiving is fast approaching and the Georgian features the area's grandest buffet dinner served in the Terrace Ballroom overlooking beautiful Lake George. Room packages with Thanksgiving Dinner are available starting at $135/couple for one night. Thanksgiving is the traditional start of the skiing and shopping season, so make it a weekend! Gore has been making snow and is scheduled to open on Nov. 23. Add Friday and Saturday night for just $79/room/night with continental Breakfast. Ski lift tickets at nearby (30 min.) Gore Mt. are just $52/adult for either weekend day. Teen, Senior and Junior pricing for Gore Mt. skiing is also available. Outlet shopping is nearby with maps and discount tickets available at the Georgian. Get all the Georgian Resort Thanksgiving Information here.. Thanksgiving weekend also features the 21st Annual North Country Festival of Trees in nearby Glens Falls, and the Light Up The Village Festival in Lake George. Adults and kids of all ages enjoy watching as Lake George Village welcomes in the holiday season with over 3500 holiday lights. After the lighting, the fun continues at the Lake George Fire House with refreshments and Santa Claus! More information on The Georgian Blog.
Right after Thanksgiving is the Holiday Party season at the Georgian Resort culminating in a lavish New Year's Eve Celebration. The Georgian hosts many holiday parties for local companies, groups and family gatherings. No group is too small and we host many groups on the same night at The Small Parties Night Holiday Celebration on December 15th. Join in the celebration - call for information or reservations 518-668-5401. Or visit the Georgian Holiday Parties Page.
Christmas Week is a great time to enjoy Holiday Skiing or Snowmobiling. With Gore Mt. Ski Center just 30 minutes away and local snowmobile trails right up the road, The Georgian is the perfect spot to enjoy a Winter getaway. Visit the Georgian Winter Package page for more information.
Rounding out the Holidays is a gala New Year's Eve Celebration at The Georgian! For the third year in a row guests will be enjoying the rockin' sounds of The Electric City Horns, a nine piece band with the area's premier horn section. The celebration begins at 7PM with cocktails and hors d'oeuvres, followed by a Lavish Candlelight Buffet Dinner. The celebration includes hats and noisemakers, dancing and music all night, a midnight champagne toast and a midnight Balloon Drop! Room Packages with the New Year's Eve Celebration begin at $365/couple. Visit the Georgian Resort New Year's page for more information.