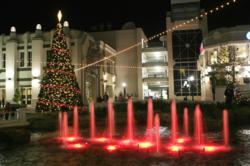 Holiday experiences can be transformational and have lasting, positive impressions.
Shreveport-Bossier, LA (PRWEB) November 14, 2012
North Louisiana's largest Christmas tree, standing at 40-feet-tall, will be brightly lit signaling the official start of the holidays, 6 p.m., Thursday, Nov. 15 at the Louisiana Boardwalk's Christmas Tree Lighting Event on the banks of the Red River in Bossier City. You will want to capture the memories with Santa Bob at the nearby Santa's Wonderland at Bass Pro Shops. Santa Bob or "Rod Man" Bob Collins will spread Christmas cheer with his wife Beth, aka Mrs. Beth Claus through Dec. 24.
Santa's Wonderland will feature a variety of free crafts, games and activities, including laser arcade, moving trains, slot car racing, video games, remote control trucks, and more.
But the fun does not stop there. New this year, local step-on guide Jan Pettiet is offering Candlelight Christmas Tours, Dec. 6-7 and Dec. 13-14. The tours, from 6-8:30 p.m., include two stops at the beautifully adorned Logan Mansion, built by wealthy beer distributor Lafayette Robert Logan in 1897, and the Davis Home Place built circa 1916 by Ella Hunt Montgomery. Tickets cost $20.
The sister cities know locals and visitors cherish traditions like Christmas in Roseland (Fridays, Saturdays and Sundays, Nov. 23-Dec. 23), The Nutcracker presented by the Shreveport Metropolitan Ballet (Dec. 1-2), Christmas on Caddo Fireworks (Dec. 1), Benton Christmas on the Square (Dec. 8), Christmas in the Hills 2012 (Dec. 8), plus many more.
"It's so important to the hospitality industry that our locals and visitors get out and enjoy all the festivities," said Stacy Brown, president of the Shreveport-Bossier Convention and Tourist Bureau. "Not only does this help our local economy, but more importantly, holiday experiences can be transformational and have lasting, positive impressions."
Shreveport-Bossier and it's Holiday Trail of Lights partners - Minden, Monroe-West Monroe, Natchitoches, and Alexandria-Pineville - will provide a roster of popular festivals, holiday markets, live music events and more.
Here are a few of the upcoming Holiday Trail of Lights events:

The holiday season is already in sight, and Shreveport-Bossier is gearing up for a fantastic celebration. Stay up to date with events in Shreveport-Bossier and its Holiday Trail of Lights partners by visiting http://www.HolidayTrailOfLights.com. Also visit http://www.ShreveportBossierFunGuide.com for all event happenings in Shreveport-Bossier.
To view holiday images for Shreveport-Bossier and the Holiday Trail of Lights partners, click here: http://www.flickr.com/photos/holidaytrailoflights.
For more information, contact Brandy Evans, vice president of communications, at the Shreveport-Bossier Convention and Tourist Bureau, at bevans(at)sbctb.org or (318) 429-0638.