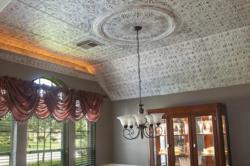 Get samples from companies because there is a difference
Houston, Texas (PRWEB) November 13, 2012
Glenn Eldridge had taken the tin ceiling business forward in may ways since his start with Chelsea. He started after the original Woodstock Festival in 1969 by becoming an apprentice in the business under his father's wing. Today he is the only person in the tin ceiling manufacturing business that has actually installed the pressed tin ceiling. He moved to Houston with the business in 1978 and has come up with many of the ideas that put Chelsea at the forefront of the tin ceiling industry.
The sheets use to be plain iron and had a greasy film to help it from rusting before it even left the plant, but Glenn started using tin-plated steel so no grease has to be washed off by the consumer. He also advised stamping 2' x 4' sheets, which previously came 2' x 8'. As an installer Glenn says, "The 2' x 8' were really hard to work with especially alone". The dies were 2 x 4 and they were stamped twice. Today the newer companies stamp only 2' x 2' sheets because they have smaller and weaker presses, but to help make up for that they use thinner metal. Glenn says,"Get samples from any company you are considering buying from because there is a difference".
Glenn's philosophy is old fashion, "The customer is always right". He and the other consultants will help any customer that calls. He also managed to get their original website http://www.TheTinman.com, but as of last year he accomplished the task of getting http://www.Tinman.com a name he feels is friendly and easy to remember. His friend and design consultant Robert Shniderson named him "Tinman" and that is now Glenn's nickname as well as the company's website.
Originally coming in only silver sheets Glenn suggested to Chelsea to start offering a copper finish and several hand painted colors in a faux type finish. Glenn also suggests to clients to use the sheets for walls, wainscotting and as a back splash. He can help with choosing designs and pattern sizes. The designs range from Art Deco and Turn of the Century to Americana and Victorian. The sheets come with either 3", 6", 12" and 24" repeat patterns.
When he worked in New York landlords would use the tin panels to help cover plaster ceilings that were in constant need of repairs. Once they installed a tin ceiling, no more patching. If the tin ceiling was stained by some water damage, a paint job was all that was necessary. Any room could be and were transformed into an elegant room. So upon moving to Houston the tin ceilings went from being economical to becoming a new decorative finish for all. The different designs became available throughout the different decades of design and are used commercially as well as residential and for period pieces in Hollywood.
To help launch Glenn's new position as CEO and also close out the year Chelsea is having their first sale since 1999 and there first sale on every item including sheets, cornices, moldings and filler panels. The sale also covers the different types of finishes they have; Silver, copper and the hand painted faux finishes. Chelsea welcomes Glenn "The Tinman" Eldridge as CEO of the company. Glenn welcomes you to check out the website http://www.Tinman.com