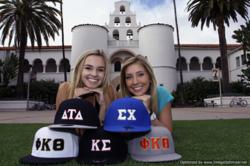 We are proud to announce that we have hit our three-month target of reaching $15,000 in sales.
San Diego, CA (PRWEB) November 13, 2012
With thousands of Greek fraternity chapters across the United States, unique Greek attire is something most look for, and the founders of a local company say people can now purchase customized Greek snapback hats straight from its website, which is one of the only sites that offers this type of product.
"We are proud to announce that we have hit our three-month target of reaching $15,000 in sales," said Jackson Miller, marketing director for Fraternity Snapbacks.
Miller explained that the company was created, because, "Like many fraternity men today, we were frustrated with the quality and lack of supply for Greek hats."
Fraternity Snapbacks, according to Miller, is run by a team of employees who are currently involved in Greek life.
"While other companies have ignored the changing trends in the hat market, we have embraced them," Miller stressed, before adding, "We are the only retail supplier of true quality, flat bill snapbacks featuring Greek letters."
Miller added that not only is its company's snapbacks and embroidery the best available, but he noted that they can also be customized to include specified fraternity crest or text.
"We can provide excellent service to individuals who wish to stand out and create a unique hat, yet we also provide options for larger groups to purchasing matching snapbacks at a discounted price," said Miller.
What separates Fraternity Snapbacks from competitors, which has been featured in an article by the San Diego State Inter-Fraternal Council in reference to its success, is the hat quality and the nearly unlimited customization possibilities.
"We offer individual, custom embroidery of Greek letters, text, and crests," Miller said. "Other sites either do not allow customization or have a poor quality designer. Our designer tool and easy-to-use website makes it must easier for customers to create and visualize the final product."
Megan Henley, a Pi Beta Phi member at San Diego State, described Fraternity Snapbacks as one of the best places to order hats for Greeks.
"Our house placed a group order of over 50 hats which gave us a great discount," Henley recalled. "The hats are amazing, and helped so much with marketing our house. We gave some away to guys in other houses and we always see people wearing them on campus."
Josh Rudman, Vice President of Recruitment of Phi Kappa Theta said the hat sets the company apart from everyone else.
"I love the quality of these snapbacks," Rudman said. "Fratbacks hooked us up with a solid price since we put in a group order for rush week. I think the hats helped separate us from the competition during rush and we plan on getting new hats every semester."
For more information, please visit: http://www.fratbacks.com/
About Fraternity Snapbacks
Fraternity Snapbacks was created by two students in Phi Kappa Theta Fraternity at San Diego State. From living on the West Coast, the two company founders noticed the overwhelming amount of students wearing snapback hats. Then during the 2011 school year, they noticed a Fraternity had custom ordered matching snapbacks with letters, crest, and text.
After searching the Internet for hours in hopes of creating their own snapbacks, the company founders found nothing aside from one low, quality option that provided no customization options.
The founders soon discovered that the Fraternity had custom ordered their hats from China and paid a hefty price. From there it was simple: The company founders have wanted to give people the opportunity to create a totally unique "fratback" at a reasonable price. Search for us on Google: http://goo.gl/SjKLi
Contact Details:
Fraternity Snapbacks
5255 55th St, San Diego 92115, CA, USA
Tel: 1-888-345-1071
###