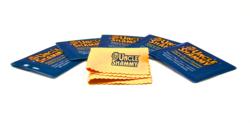 I always keep an Uncle Shammy in my back pocket! ~Erik V.
Plain City, Utah (PRWEB) November 14, 2012
Branding Bull LLC is proud to announce the debut product from its Uncle Shammy line. Uncle Shammy is a uniquely designed mini shammy that is conveniently portable and reusable. It's the "take anywhere", "smudge fighting shammy cloth" that cleans smartphones, tablets, and glasses.
This unique pocket product serves multi purposes. Not only is it used for pricy smartphones and tablets, but it can also be used for high-end optics and scopes along with glasses, sunglasses, and computer screens. One happy customer wrote in, "I use my Uncle Shammy to wipe off my binoculars and scope while in the field. It's uber convenient to carry along in my hunting pack, and gets the job done."
The resealable pouch is designed to keep the chamois cloth clean and free from grime between uses. "It's ingenious packaging and resealable pouch makes for easy keep and "put-away," says Mr. Walthius, who uses Uncle Shammy for cleaning off his iPhone, iPad, and computer screen.
According to Mr. VanOrden, Branding Bull co-founder, the new chamois was developed to clean, wipe, and care for our ever precious gadgets and gizmos. This pocket sized shammy can be taken everywhere and is small enough to be kept in a purse, glove box, shoulder-bag, or even your back pocket.
Uncle Shammy is especially popular among our women clientele. Between make-up, work and children, women are finding this product essential in everyday life. It is useful in cleaning up windows, phones, mirrors, and every other surface that is dirtied in the busy life of a woman.
So when you now here the word shammy think convenient and portable, think innovation and ingenuity. Think of the "take anywhere cloth" that facilitates life's processes and allows you to view the world differently. Let it change how you view your technology.