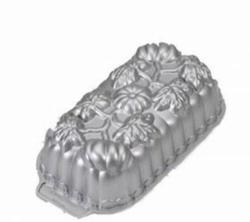 Elma, New York (PRWEB) November 13, 2012
Thanksgiving is only a handful of days away and the Made In America Store is in full swing of the festive season. Bringing holiday candy, toys and decorations, the Made In America Store would like to add Thanksgiving and Christmas themed Cake Pans from Nordic Ware.
Nordic Ware has been with the Made In America Store in the past but only recently have they brought their holiday themed Cake Pans. Nordic Ware currently offers their Pumpkin Loaf Pan, Cornucopia Pan, Turkey Pan, Autumn Cakelet Pan to name a few Cake Pans dedicated to Thanksgiving.
Shop today for your 100% US manufactured Cake Pans from Nordic Ware! Click here to visit the Made In America Store and help save and create jobs today!
The Made In America Store also has a variety of Cake Pans from Nordic Ware that are more focused towards Christmas as well. Nordic Ware brings the Gingerbread House Cake Pan and the Gingerbread Men Cake Pan.
Nordic Ware, a family owned and operated business, brings US manufactured cake pans and grilling utensils to the Made In America Store. The American made cooking supplies increases the inventory of the kitchen department at the Made In America Store.
Nordic Ware is a family-owned, American manufacturer of kitchenware products founded in 1946. From our home office in Minneapolis, Minnesota, Nordic Ware has marketed an extensive line of quality cookware, bake ware, microwave and barbecue products for the last 60-plus years.
Looking to purchase the quality and durability that is back by years of family owned business? Nordic Ware brings 100% American made cake pans and more!
Nordic Ware's first products were ethnic bake ware products such as our Rosette Iron, Ebleskiver Pan and Krumkake Iron. An innovative manufacturer and marketer, Nordic Ware is best known for its Bundt Pan. Today, there are nearly 60 million Bundt pans in kitchens across America.
The Nordic Ware name, associated with quality, dependability and value is recognized by millions of homemakers. Today 2 out of 3 American households own and use Nordic Ware products. In addition to consumer kitchenware products, the Nordic Ware Industrial Coatings Division is one of the country's most respected coating applicators. Our extensive finishing technology and history of quality, innovation and consistency in this highly technical and specialized area makes us a true leader in the industrial coatings industry.
Since founding Nordic Ware in 1946, our family has prided itself in providing long-lasting quality kitchenware products, which will be handed down through generations. Our business is firmly rooted in the trust, dedication and talent of our employees, a commitment to using quality materials and construction, a desire to provide excellence in service to our customers and the never ending research of consumer needs.
The Made In America Store is located at 900 Maple Road in Elma, New York and is committed to selling 100% American manufactured products. You can visit http://www.MadeInAmericaStore.com for more information or shop our catalog of over 3,500 products from over 290 vendors that are devoted to producing USA made products. All US military personnel, both active duty and veterans, receive a discount every day. Consumers can also keep up to date news articles, events, photos and contests with Facebook, Twitter, Google+ and Pinterest!