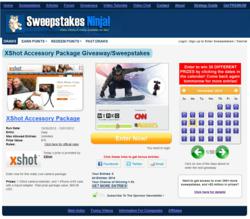 Thanks for a fantastic job!! Used your [service] for few days and loved it!
Los Angeles, CA (PRWEB) November 14, 2012
Win prizes online with Sweepstakes Ninja Sweepstakes Draws, officially launched November 1st, 2012. Sweepstakes Draws are an innovative way of consumers interacting with companies. Consumers participate in daily sweepstakes for the calendar month. Companies sponsoring the prizes benefit from daily exposure to their brands. They also benefit from consumers acting as their marketing agents. Consumers may obtain bonus entries to increase their chances of winning prizes, in exchange for promoting the participating companies through social media. For the month of November, there is over $3,000+ being given away as prizes.
With the daily giveaways, consumers create a profile, then may pick up to 30 different sweepstakes for the calendar month to participate in. They obtain bonus entries by sharing sweepstakes through social media such as facebook, twitter, email, online website forums and so forth. Lastly, they may choose to opt-in to a company specific newsletter to receive specials and deals once the promotion ends. One key point for consumers is that they only register once to participate. This saves them time, and they can then focus on an enjoyable interaction with the company brands. Afterwards, they may participate in as many sweepstakes being offered, as they wish.
Companies benefit from repeated daily exposure to their brand. A big bonus to offering sweepstakes through the sweepstakes draws, is that once the promotion has ended, the company may also follow up with consumers who opted into their newsletter. The company may then offer special limited time rebates or coupons to entice consumers to make a purchase decision, thereby seeing an immediate return on investment.
Sweepstakes Draws are designed to be a win-win situation for both the consumer and the company. The consumer benefits by having a chance to win amazing products and services, plus special deals offered by the company. And the company benefits through social media interaction by its participants, plus converting leads into happy customers. Companies wishing to participate may contact Johnathan at Sweepstakes Ninja for details.