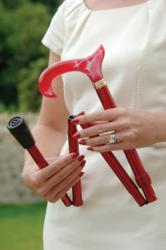 Folding Canes
from
Walking-Canes.Net
Lady Lake, FL (PRWEB) November 13, 2012
Walking-Canes.Net has just received a collection of fashionable folding canes for the fall and winter season. Imported from England, Germany, Scotland and France the canes represent the latest in fashion.
Folding Canes are lightweight and simple to use but at the same time strong enough to support the weight up to two hundred pounds. Check the weight limit on each cane before the purchase to make sure the weight limit is correct. Folding canes are made of lightweight aluminum but are strong and can come in either four section or five sections. The nice thing about aluminum is the ability to apply the painted design to the cane that gives it the look of fashion or distinction. The manufacturers have developed many new color patterns and given the fashion world something to think about.
The new manufacturing process means no assembly required. Once the lighweight cane is in the hand just let it fall and open. The last folding section comes complete with a rubber tip already on it for non-slip. The folding cane weighs less than one pound and is available in either a men's walking cane or ladies walking cane.
Storage is a great convenience with this type of cane. Easy to fold up to around twelve inches and can easily fit into the glove compartment of the car, a backpack for hiking, a woman's purse, or a just in the side door of the car pocket to have as an extra walking cane when the time comes. Carrying cases are available for each in black, blue or plaid for a small additional fee.
Every cane user needs a folding walking cane to add to their collection. Call if help is needed in locating the correct one or are looking for something special please contact customer service at 1-888-928-1774.