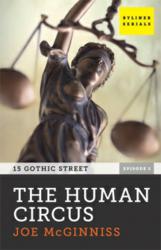 McGinniss is the Alfred Hitchcock of the true-crime genre, a genre he often transcends.
—The Boston Globe
San Francisco, CA (PRWEB) November 13, 2012
A barroom brawl spills into the street. Police officers arrive, the mob scatters, but one man—the only African American in the group—is caught. In his coat pocket: an illegal gun. For the third time in his young life, Herbert Levy is headed to court. But his case isn't what it seems. Not by a long shot.
Find out what happens to the enigmatic Levy—and a docket of other miscreants—in this rousing legal page-turner by bestselling author Joe McGinniss (The Selling of the President, Fatal Vision, Going to Extremes). The dramatic second installment of his 15 Gothic Street series, The Human Circus continues the tale of crime and courtroom justice in a small New England town and proves yet again that truth is much, much stranger than fiction.
Joining Herbert Levy in the cast of Human Circus characters: Brian Walsh, who tries to blame his fifth drunk-driving offense on carbon monoxide poisoning. Hakam McCoy, accused of kidnapping his girlfriend by merely taking her car keys. And a bevy of colorful lawyers and judges who try to impose order on the real-life criminal sideshows that take place every day in the stately courthouse at 15 Gothic Street.
ABOUT THE AUTHOR: Over the course of forty years, Joe McGinniss has written dozens of magazine articles and published twelve books, eleven of them nonfiction. In every decade of his unconventional career, one of his books has become a classic, each transcending its genre: The Selling of the President; Going to Extremes; Fatal Vision; and The Miracle of Castel di Sangro. 15 Gothic Street: The Human Circus is the second in a series of stories that follow the happenings in superior court in Northampton, Massachusetts.
ABOUT BYLINER: Byliner commissions and publishes original stories written to be read in a single sitting. Bestselling Byliner titles include Amy Tan's Rules for Virgins, Margaret Atwood's Positron, Jon Krakauer's Three Cups of Deceit, Ann Patchett's The Getaway Car, Nick Hornby's Everyone's Reading Bastard, and Buzz Bissinger's After Friday Night Lights. The companion website, Byliner.com, gives readers personalized access to an unmatched library of fiction and nonfiction, handpicked by our editors. On Byliner, readers can discover new writers, explore, save, and share great stories, connect with other readers, and even engage directly with their favorite writers.
15 Gothic Street: The Human Circus will be available November 13, 2012, for $2.99 in the Amazon Kindle store, as a Quick Read in Apple's iBookstore, a Nook Snap at BarnesAndNoble.com, and a Short Read at Kobo, and at Google Play. As a special introductory offer, 15 Gothic Street's first episode, Primitives, will be available for $0.99.
For an Advance Reading Copy or to schedule an interview with Joe McGinniss, please contact Clare Hertel at clare(at)byliner(dot)com; 505-474-6783.
###