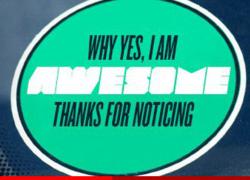 Investing in a few innovative ideas up front with promotional tools like window decals, bumper stickers and custom labels can help a company by increasing name recognition
Denver, CO (PRWEB) November 13, 2012
After consulting with its digital printing experts, some with more than 30 years of printing experience, Print360 announces three tips to optimize creative advertising and promotion, which is a key component to distinguishing a brand and gaining new customers. These marketing tips rely on time-tested tools but remind small business owners that materials, such as window decals, bumper stickers and custom labels, can be used in novel ways.
"Investing in a few innovative ideas up front can help a company by increasing name recognition," says Matt Marcus, Senior Vice President at Print360. "These marketing tips are recommended ways to reach more potential customers in your community," he adds. In conjunction with this release of industry advice, Print360 is offering a special discount of 20% off all products at Print360.com through November 30, 2012. Simply use code GET20NOW at checkout. "We have many promotions going on right now—all of which can be found on Print360.com. As a custom printing company, we want to make effective marketing tools affordable for large and small businesses alike," says Marcus.
1. Window Decals - Custom window decals can advertise and promote businesses by increasing visibility of a message or company logo. Window decals are versatile with different sizes and color options. Novel ideas recommended by Print360 for businesses to use these car window stickers include sales events, listing business hours, and other distribution with purchase or at check-out, to make a brand and logo more recognizable. "Don't forget to personalize," notes Marcus. Print360.com offers customizable templates to create unique designs. Visually attractive advertising tactics such as window decals can draw more people over time.
2. Bumper Stickers - Window decals are not the only way to make a visual impact with vehicle advertising. Additional options for turning a vehicle into a mobile billboard include painting it or wrapping it with vinyl decals. Print360 finds that many businesses prefer to use smaller items that can be distributed at trade shows, in offices or through the mail. Bumper stickers enable companies to advertise on a smaller scale, while still getting the attention of other drivers and passerby. Bumper stickers are also a popular choice made by schools, athletic teams and other organizations.
3. Custom Labels – Perhaps the most versatile choice in the printing industry, custom labels are an essential and basic tool for small business promotion. Print360 team members advise companies to create something unique and memorable that distinguishes itself from a standard label. There are many ways to get creative with shapes, textures, colors, and finishes. Print360, for example, offers many variations including beverage labels, food labels, health and beauty labels, industrial and weather resistant labels, personalized labels and home and office labels—each with many choices for shape, size and design.
About Print360:
Print360 specializes in custom printed products, including business cards, bumper stickers, buttons, product labels, envelopes, letterhead, magnets, mailing labels, post-it notes, return address labels, stamps and window decals. Operating in several state-of-the-art printing facilities across North America, Print360 utilizes both off-set and high-speed digital printers to meet a variety of product needs with fast turnaround times. The quality of Print360 products is a result of its team of talented print industry experts, some with more than 30 years of printing experience. Combining this expertise with high quality production capabilities, Print360 maintains its affordable prices and speed. For more information, visit Print360.com and find Print360 on Facebook, Twitter (@Print360), and Google+.