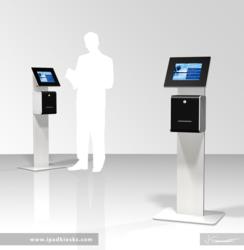 customers are drawn to the very recognizable iPad form factor
Frederick, MD (PRWEB) November 13, 2012
Today Kiosk Group, Inc. released a special update to its industry-standard Kiosk Pro deployment platform. This update enhances the monitoring capabilities of the Kiosk Pro Enterprise Remote Management Software.
Now, the Kiosk Pro Enterprise remote management system can perform the following functions:
Continuous Device Health Monitoring

CPU Usage
Memory Usage
Disk Usage
Total Kiosk Uptime
Current Wifi/3G Connection
Kiosk Alerts
External power loss and recovery
Battery State (%)
iPad Crash or Lockup
Knock-Over Detection via Accelerometer (Patent Pending)
Remote Update of Settings
Remote Update of Local Content
App Restart
Dim/Sleep & Wake Initiated
Kiosk Printer Alerts
Special Alert Signaling
Email
Web Interface
Content Management
Remote Update of Settings
Remote Update of Local Content/Media
Schedule Content Updates
Update Individual Kiosks, Groups or All
Audit Files on the iPad
Retrieve Screen Captures from iPad
Usage Monitoring
Total Numbers of User Sessions (By Hour, Day, or Specific Time Period)
Average User Session Length
Page Visit Statistics (By URL or Page Title)
Individual User Session Start & End Time
Individual User Session Navigation Tracking
Aggregated User Navigation Path Reports
Printing Statistics
Remote Kiosk Management Reports
Real Time Reporting
Compare Usage Trends with Graphs
History of Kiosk Startup, Alerts, Content Update
Client-Defined Report Parameters
Export Reports to CSV file
Filter by Individual Kiosks, Groups or All
User Management
Create Sign-In Credentials for Specific Users
Role-Based Access/ Restriction to Functions
Kiosk Group president Mike James stated, "iPads have changed the way that companies deploy kiosks. Why would they spend four or five thousand dollars on a touchscreen kiosk when they can get the job done for a fraction of the cost. The best part is that customers are drawn to the very recognizable iPad form factor."
For more information, visit http://www.kioskproapp.com/kpe or contact Mike James at 888-569-5467 ext. 101.
About Kiosk Group:
Kiosk Group offers a total solution for iPad kiosks: Kiosk Pro client and server software, an extensive line of kiosk enclosure options (http://www.ipadkiosks.com), custom in-house branding and graphics treatments, iPad devices, and a full line of kiosk-related accessories.
About ADSI, developers of KioWare Kiosk Software:
Founded in 1991 to provide client server software development, Analytical Design Solutions Inc. (ADSI) developed KioWare (http://www.kioware.com), award winning kiosk system software, in 2001. KioWare deploys browser-based applications into a kiosk mode environment, securing the operating system, and allowing users to access only the application. The KioWare product line ranges from basic browser-lockdown to server based remote monitoring.
Contact:
Kiosk Group Inc.
8415 Progress Drive
Suite Z
Frederick, MD 21701
Mike James (301) 637-8333
mjames (at) kioskgroup (dot) com