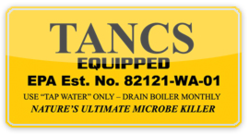 A 99.9999% reduction of MRSA and VRE on surfaces within 5 seconds is a level of performance that chemical disinfectants may never achieve.
Lake Forest, IL (PRWEB) November 13, 2012
1-800-GO-VAPOR.com, a leading marketer of vapor steam cleaners serving customers nationwide with the highest levels of quality, service, innovation and reliability, today announced that the commercial-grade Ladybug Tekno 2350 steam vapor sanitization system with TANCS® (Thermo Accelerated Nano Crystal Sanitation) can help reduce workers' comp claims. Manufactured in Italy, the Tekno is known the world over as the ultimate steam vapor system for serious home or business use.
"Not only is the Tekno 2350 extremely powerful, it can help increase productivity and reduce workers' comp claims," says V.K. Dunlop of 1-800-GO-VAPOR.com. "In addition to avoiding lung-damaging toxic chemical fumes, cleaning staffs will spend less time squatting, stooping and scrubbing on their hands and knees."
The Tekno 2350 with Ladybug's proprietary patented TANCS® technology is scientifically proven to produce better results than traditional disinfectants, qualifying the Tekno as a disinfection device for the U.S. Environmental Protection Agency (EPA Est. No. 82121-WA-01) and making the Tekno ideal for commercial settings like dental offices, animal clinics, hospitals, restaurants, nursing homes, supermarkets and schools where the highest level of cleanliness is required.
"Some steam cleaner manufacturers claim to be earth-friendly but then flatly contradict themselves by equipping their machines with chemical injectors," says Dunlop. "The simplified water-only protocols of the Tekno 2350 clean, disinfect and deodorize almost any surface—without chemicals. There are no MSDS requirements to comply with or records to maintain."
According to Benjamin Tanner, president of Antimicrobial Test Laboratories, "The TANCS® System has shown extraordinary results in laboratory tests. A 99.9999% reduction of MRSA and VRE on surfaces within 5 seconds is a level of performance that chemical disinfectants may never achieve."
An advanced 'green' cleaning device, as dynamic as it is durable, the Tekno 2350 is engineered to exceed the competition's durability, reliability and performance, yet affordable for the budget-minded business. Like 1-800-GO-VAPOR.com's top-selling residential Ladybug vapor steam systems, the commercial-grade Tekno 2350 comes standard with an arsenal of accessories and an optional trolley for ultimate portability and tool storage.
Located in Lake Forest, Illinois, 1-800-GO-VAPOR.com is moving fast to educate consumers and businesses that finally, there's a feasible, environmentally friendly alternative to chemicals. The company maintains an unblemished A+ rating with the Better Business Bureau and markets Ladybug, Reliable and Vapamore vapor steam cleaners worldwide. For more information, call 1-800-468-2767. 1-800-GO-VAPOR.com is a proud member of the Safer Chemicals, Healthy Families coalition, a nationwide effort to protect families from toxic chemicals. To stay safe and avoid toxic chemicals, keep abreast of the latest news with 1-800-GO-VAPOR.com's Twitter account, @1800GOVAPOR.