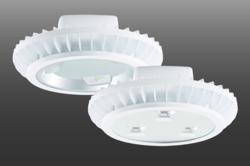 The new high bays replace 250 Watt metal halide fixtures one-for-one with a 70% reduction in energy and maintenance costs.
Northvale, NJ (PRWEB) November 14, 2012
RAB Lighting, the leading manufacturer of affordable LED lighting, announces the addition of a new 78 Watt High Bay (BAYLED78) and Aisle Lighter (AISLED78) to its growing line of high performance, ultra efficient LED luminaires. The new high bays replace 250 Watt metal halide fixtures one-for-one with a 70% reduction in energy and maintenance costs.
The BAYLED78 is ideal for illuminating large open spaces such as warehouses, supermarkets, auditoriums and gymnasiums. The AISLED78 is equipped with specially designed optics that distribute light uniformly across the vertical face of racks in an aisle. The result is increased visibility and readability of box faces on shelving.
The BAYLED78 and AISLED78 are UL listed as suitable for wet locations when pendant mounted and suitable for damp locations when mounted with a hook and cord. They are also designed for use in high ambient environments up to 55o C (131o F). Both fixtures come complete with a three-foot cord, heavy-duty hook and safety chain for simple and secure installation. Additional accessories include a chrome wire guard and a clear polyshield guard that provide added protection against lens impact.
For increased energy savings and lighting control, RAB offers a commercial grade motion sensor (LOSBAY800) that can be easily incorporated into installations. At mounting heights of 20 to 40 feet the LOSBAY800 provides a 60' x 60' (3600 sq. ft.) detection range. The sensor also comes with an optional lens cover that modifies the detection pattern to fit the long narrow shape of a warehouse aisle.
"With BAYLED, we've created an energy-efficient, cost-effective opportunity for warehouses and other high-ceiling facilities while improving their quality of light," said Ross Barna, CEO of RAB Lighting. "We are also proud to introduce the AISLED with unique optics that ensure uniform vertical light distribution along aisle shelving and racks. These two products are truly innovative in ways that will make a big difference to facility owners."
Both fixtures are available in cool, neutral and warm color temperatures. Like all RAB LED luminaires, the BAYLED and AISLED have a 100,000-hour LED lifespan and a five-year bumper-to-bumper warranty.
About RAB Lighting
RAB Lighting, located in Northvale, New Jersey, is a leading manufacturer of sustainable outdoor lighting fixtures, using LED, HID, CFL and motion sensing technology. Founded in 1946, RAB sells professional grade lighting nationwide through a broad network of electrical distributors. RAB also offers lighting design and application engineering services, free of charge, to produce lighting layouts that enable end-users and installers to visualize what their lighting will look like before they buy. For more information, call (888) RAB-1000 or visit http://www.rabweb.com.