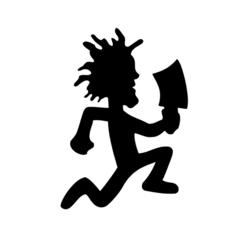 We are not a gang! We are family!
Farmington Hills, MI (PRWEB) November 13, 2012
Juggalos are outraged at the FBI's 2011 National Gang Threat Assessment, which labeled the music fan-base a "gang", thus aligning them with real gangs such as MS13, Aryan Brotherhood, Latin Kings, and many others. The federal gang status has caused tremendous legal, financial, and emotional turmoil for thousands of Juggalos across the nation, and even internationally. Via numerous outlets, including http://www.JuggalosFightBack.com, Juggalos are responding by voicing their opinions, sharing their personal stories of the harsh effects of the FBI's assessment, and forming support groups within their communities.
Soon after the FBI labeled Juggalos a gang, Psychopathic Records announced that it would be suing the FBI (Case 4:12-cv-14234-MAG-RSW / USDC Eastern Division of Michigan), and set up the website http://www.JuggalosFightBack.com. This website started out as a place for Juggalos negatively impacted by the gang status to privately communicate with the label's attorneys. Immediately, the website was flooded with emails, and, in addition to the legal complaints, there were also people – both Juggalos and non-Juggalos – going to website to merely share words of support. In other words, the Juggalos Fight Back website was also being used as an outlet for people to allow their voices to be heard, whether it was to show concern, air out frustrations, or to rally for the label's cause. The sincere support shown by all types of people was probably garnered for multiple reasons, the major one being the blatant absurdity of officially labeling a group of music fans who refer to themselves as "family" a vicious GANG.
Having realized a need for a public forum area, as a number of Juggalos wanted to be heard rather than obtain legal aide, Psychopathic Records added the "Family Forum" to http://www.JuggalosFightBack.com. The Family Forum provides an online atmosphere for Juggalos to share opinions and stories without creating an attorney-client communication. Here, Juggalos create profiles and get to communicate with each other, voicing whatever is on their minds regarding the FBI situation. Please find some examples of the hardships suffered by Juggalos due to the injustice of the FBI's label:
Mackenzie F. explains that she was fired from an internship for being a Juggalo:
"I was at an internship and one day my mentor sat me down and asked me what the hatchetman meant. I told her that it stood for Juggalos and Juggalettes, as in the Psychopathic Fam, but she didn't believe me so she looked into its meaning. On a Tuesday she sat me down and talked to me about the hatchetman/girl and its meaning again. She recently noticed that the FBI had put a label on us Juggalos/Lettes, saying that we are a gang. So, let me tell you this - she said that since the Fam is labeled by the FBI she had to let me go."
Renee P. sent in her story about the increased jail sentence for her son, which is soley based on him being a Juggalo:
"I am writing this for my son Skylar, who is currently serving time at Stanley Correctional Institute in Stanley Wisconsin. My son has been down with the clown for many years - just loves being a Juggalo. We both went to the Gathering in 2010 and had a great time. Soon after, Skylar had gotten into trouble with the law around here, so he had to pay the price for his mistakes. But what really got me was in court at his sentencing - since Skylar was a Juggalo (around here Juggalos are labeled a gang, as well as in prison) he got a year and a half added to his sentence. He was used as an example!!! Not cool! He sits in prison away from his family because he chooses to listen to this type of music!! He still stands tall for Juggalos!!"
Cara W. discusses being pulled over by the police due to being a Juggalo:
"I was driving home with my baby girl in the back seat, and was about to pass someone when blue popped on behind me. The officer asked for my license and registration, but before I gave it to him and before he told me what I was doing wrong he asked me if I was part of the Juggalo gang. I asked him 'why', and he stated that I have a hatchetman on the back of my truck. I told that I'm not part of a gang; however, I am part of a family. I later got a $300 ticket for driving in the left lane while I was passing!"
Psychopathic Records and the Juggalos, as a collective, had this to say to the FBI: "We are not a gang! We are family!"