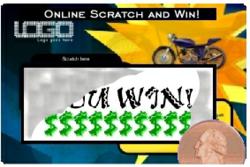 I would like to say thank you for your outstanding customer service. For you to incorporate my suggestion in less than 24 hours and have it live speaks to the fact that you are part of an outstanding organization.
Los Angeles, California (PRWEB) November 15, 2012
One issue facing many companies, especially in this economy, is sales. Consumers are especially cost conscious and comparison shop. Deal sites introduced a couple years ago, such as GroupOn, became an instant hit with consumers. They paved the way for thousands of copycat sites. A one time special, limited time promotion offered by one company or discount can mean the difference between closing a sale, and a consumer looking elsewhere. Scratch and win tickets have proven to be an effective way of closing sales for years in the bricks and mortar industry, and now businesses can see the same kinds of results in the online world. HotHotSoftware has officially released a tool to allow companies to easily, and inexpensively, create an interactive branding and promotional tool through scratch and win tickets.
Consumers like winning and feeling like a winner. Play online games, such as scratch and win games, help a company build loyalty to a brand. This is called gamification. According to MSNBC (http://www.msnbc.msn.com/id/46679844/ns/business-small_business/t/how-three-businesses-scored-big-gamification/), major companies have utilized games to see an immediate return on investment and increased customer loyalty.
HotHotSoftware's online scratch and win software, allows companies to easily and inexpensively create their own online, interactive promotional campaigns. Unlike other services, which are limited in capabilities and generally cost upwards of thousands of dollars, or require a subscription, HotHotSoftware's online scratch and win software is an inexpensive and effective self hosted solution.
Scratch cards feature an interactive coin scratching tool, sounds, and animation. Once the consumer scratches the ticket, they are then redirected to a page to redeem their promotional voucher. Companies may use a built in template design generator, to customize existing scratch tickets. Or, they may use their own graphic designers, and customize the promotions to meet their needs.
The HotHotSoftware Scratch and Win card creator allows businesses to easily create online promotions. Online Scratch tickets may be used to offer special discounts to customers, or as an enticement to subscribe to a newsletter, for followup marketing. Scratch tickets can also be used as an effective means of social media advertising.
For more information, visit http://www.hothotsoftware.com/scratch_and_win_game_software/.