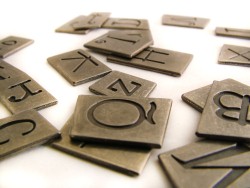 There are several steps manufacturers can take to ensure their custom labels and stickers are attractive, error-free and still reflect the brand's true marketing message
Denver, CO (PRWEB) November 14, 2012
Lightning Labels, a custom label and sticker printing leader, is calling on people to become more aware of the grammar and spelling use displayed on their labels. In a time where text messaging prevails and words are abbreviated to just a few letters, product manufacturers and label makers must remember that labels aren't instantaneous like text messages - they have the potential to last for years. As a result, Lightning Labels has released four key marketing tips for label printing.
"People put so much energy into choosing which type of labels and packaging best display their product, but some have a tendency to overlook the importance of proper grammar and spelling," says Business Development manager AnneMarie Campbell. "There are several steps manufacturers can take to ensure their labels are attractive, error-free and still reflect the brand's true marketing message."
Consider That Communication Trends May Affect Label Content: The digital age has its benefits - namely communication technology and ease - but it brings up a few concerns for manufacturers making custom labels and stickers. Using proper grammar and spelling has always been important when trying to attract potential customers, but it's imperative for a company to become a trustworthy entity worthy of return business.
Using slang is one thing - maybe even around the office or in casual conversation, depending on the brand's preferred communication style - but labels are more than casual exchanges. They introduce potential clients to a brand, a product or something that could genuinely better their lives. Not only that, but it's possible a company uses the same labels for years as a means to increase awareness and become more recognizable on shelves and in consumers' pantries.
Because a company doesn't rebrand every year - or for many years, if you look at the recent rebranding struggles of companies like Gap and J.C. Penney - it's important to get a label right the first time. This includes spelling, punctuation and word use, but even the most grammar-challenged label makers can take a few steps to ensure their custom labels and packaging are error free.
Use A Buddy System for Packaging and Label Printing: Even for manufacturers who prefer to take total control of packaging and label printing, it doesn't hurt to have another set of eyes to proofread. It's a difficult task to self-edit written content, especially for grammatical errors, but it's even more difficult when it's not the person's chosen expertise. Label makers who have a strong grasp on grammar and spelling should still consider asking a colleague to review the piece rather than risk printing error-ridden labels that could be costly to fix.
Consider the Label Audience: Although many label errors run the risk of damaging a business's reputation, casual writing, abbreviations and improper spelling trends may actually work for certain demographics in the same way colors can reach different people in unique ways.
Before making final label and/or packaging decisions, consider testing the copy tone and wording with sample groups. What resonates with people? Do word abbreviations or shortened text message lingo attract people instead of turning them away? It's possible, but, even in this case, it's wise to make sure spelling is on point - even if it's alternative spelling.
Label Printing Errors Spur Negative Repercussions: Although label printing errors could cost a company valuable time and resources to print new labels, it doesn't compare to the damage that is done to the company's reputation. Customers are less likely to buy products with glaring spelling and grammar errors on the labels, which may indicate that the company puts as little time, thought and effort into the products as it does the label.
Is this the case every time? Maybe not, but it's best for manufacturers to avoid confusion the first time around, especially when companies are doing everything they can to stay ahead of the competition.
For those who are ready for label printing, Lightning Labels is running a Pre-Thanksgiving Event that's valid from November 13, 2012 through November 21, 2012. Save on custom labels and stickers with 15% off new orders. Simply use promo code THANKS15 at checkout. The promo code THANKS15 is valid on new label orders only and does not apply to reorders. Free ground shipping applies to regularly priced orders shipped within the United States and Canada, but shipping charges apply for printed press proofs. This offer cannot be combined with any other offers or promotions.
About Lightning Labels:
Lightning Labels uses state-of-the-art digital printing technology to provide affordable, full-color custom labels and custom stickers of all shapes and sizes, and now offers a full line of custom packaging products. From small orders for individuals, to the bulk needs of big businesses, Lightning Labels is equipped to handle and fulfill sticker, label and product packaging projects of all types. Best of all, like the name implies, Lightning Labels provides a quick turnaround to every customers' labeling and product packaging needs. Uses for Lightning Labels custom product labels and custom stickers include food packaging and organic food labels, wine and beverage labels, bath and body labels, and nutraceutical products, such as vitamins, essentials oils, and herbal remedies, as well as event stickers, adhesive window stickers and more. Lightning Labels strongly supports the development of environmentally friendly printing materials and carries EarthFirst PLA, a new kind of green label material made from corn instead of petroleum. While operating as a high-tech printer, Lighting Labels prides itself on its personalized customer service. Lightning Labels provides one stop shopping for all of your label and product packaging needs. For more information and to place orders online, visit LightningLabels.com. For the latest in packaging news and labeling promotional offers, find Lightning Labels on Facebook, Twitter (@LightningLabels), and Google+.