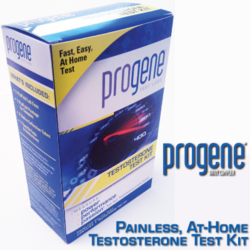 We've already seen some amazing results with increased free testosterone levels in men after taking Progene®," said Michael Lee of Progene®. "We're excited about the opportunity of expanding this research to a national level with IndieGoGo.com!"
Cincinnati, Ohio (PRWEB) November 13, 2012
Gentlemen, start your engines!
It's official: Progene®, a leading all-natural testosterone supplement, has launched a national study on testosterone levels in men at IndieGoGo.com, an award winning crowd-sourcing platform.
While awareness surrounding the effects of lower testosterone has increased, most men do not know their own levels. As important as testosterone levels are in the operation of men's own engines, shouldn't this be one of the stats they know? At Progene®, the answer is YES!
Testosterone is a key sex hormone that plays an important role in men. Testosterone not only regulates sex drive, it also helps regulate bone mass, fat distribution, muscle mass and strength, and the production of red blood cells and sperm. Testosterone controls the development and maintenance of masculine characteristics and allows men to stay healthy and active.
According to Dr. Morgentaler, author of Testosterone for Life, testosterone levels peak in the late teens/early twenties and concentrations decline every year thereafter by 1-2% per year.
By 45, an average man will have lost 25-50% of his levels. With nearly 50 million men age 40-65, Progene® hopes to advance important testosterone research with their IndieGoGo.com study.
The Progene®/IndieGoGo Study endeavors to change this by offering men an opportunity to find out their levels with a pre-retail distribution of Progene's® At-Home Testosterone Test Kits at a special IndieGoGo study discount.
Progene® encourages men to discover their testosterone levels while having some fun in the process. The study focuses on men's testosterone levels and Progene® expects to announce findings within 90 days. Anticipating thousands of participants, Progene® plans to report on the largest single study of its kind. As a stretch goal, Progene® hopes to set a world record with IndieGoGo.
"I've wanted to run a study like this for a long time, and now it's finally happening," said Michael Lee of Progene®. "We've already seen some amazing results with increased free testosterone levels in men after taking Progene®, and are excited about the opportunity of expanding this to a national level. Now men have an easy way to find out their testosterone levels, do something about it, and get back in the game!"
Progene®'s exclusive Testosterone Tests are simple and painless. Just spit, seal samples in a pre-paid mailer, and in 5 -7 days see results. Compared to a doctor's office visit, the at-home tests are more convenient and a fraction of the cost.
With the IndieGoGo study, Progene®'s Tests will be provided to participants at a special, discounted price. There are also other special offers for those who are interested in participating on a more personal level, including an opportunity to star in a Progene® National TV ad.
For men, this is a great chance to measure the levels in their "engines" -- to restore its potential and to experience more Power, Performance and Passion® with Progene®.
About Progene:
Founded in 2003, Progene® began its lead in this market nine years ago, when the company released the original supplement to address the decline of testosterone levels in men over thirty. With over 20 million tablets sold, Progene®'s dual-action formula of rare herbal extracts and clinically proven testosterone precursors helps provide men the ingredients needed to produce more testosterone.
Expanding its national distribution with the recent addition of Rite Aid stores, Progene® continues to grow its services with the recent launch of their At-Home Testosterone Test Kit. Now men can actually see for themselves what Progene® can do to help restore their Power, Performance & Passion®. Progene® is currently sold nationwide at all GNC Stores, USADrug, Drugstore.com, Sears.com, Harris Teeter Groceries, Brookshire's Food & Drug and more than 150 other local and regional retailers.
Why wait? Test levels today!
For more information on Progene®, visit http://www.Progene.com
or Take our Testosterone Survey
About IndieGoGo:
IndieGoGo is the world's largest self-serve open-funding platform. Since its founding in 2008, the site has distributed millions of dollars to over 24,000 campaigns in 159 countries. Anyone in the world with a dream to make their idea a reality can easily create a campaign to raise money, offer perks and maintain 100% ownership. The company has been featured on "Oprah," ABC's "Good Morning America," and the BBC, as well as in the Wall Street Journal, The New York Times, and Techcrunch. IndieGoGo is headquartered in San Francisco, CA. For more information, visit indiegogo.com.
Contact:
Judith Hokanson
Progene Public Relations Manager
(866) PROGENE
(866- 776-4363)