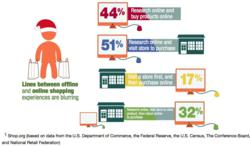 "We are living in a new digital age where consumers no longer see a divide between online and offline shopping, and neither should savvy retailers." -Nicole Larrauri, Managing Partner of EGC Group
Melville, NY (PRWEB) November 13, 2012
Retailers and marketers who are determined to stay competitive in an ever-changing digital world must adapt to the dramatic change in consumer behavior as a result of the technological advancements in both mobile devices and the internet alike, according to a comprehensive report released today by EGC Group of Long Island, New York.
"How to Prepare for the First 'Nonline' Retail Season," released by EGC Group today, shows that 2012 will bring a very different holiday season for shoppers, brands, retailers and marketers. Never before in such a short period of time has a consumer changed how they shop for a product or service, including their research and selection process, as well as how they behave in a retail setting. These changes led Google to dub this the first "nonline" retail season.
The report compiles the latest trends in consumer behavior that will prove useful to retailers and marketers alike this holiday season. EGC Group conducted its own independent survey, performed a social media analysis on all platforms, and compiled data from leading retail and digital authorities and publishers.
"Our team of retail marketing experts wanted to dig deeper into these changing retail trends and we are confident that our findings will help guide retailers and marketers through the next few, very important shopping weeks," said Nicole Larrauri, Managing Partner of EGC Group. "We are living in a new digital age where consumers no longer see a divide between online and offline shopping, and neither should savvy retailers."
EGC Group's How to Prepare for the First 'Nonline' Retail Season outlines the latest consumer retail trends and actionable steps that marketers can execute immediately to enhance their campaign for the current holiday shopping season, including:

"Nonline" Holiday Shopping
The Death of Black Friday?
Retailers Embrace Showrooming
Enhanced Social Integration
Even at this stage in the season, there are immediate actions that marketers and retailers can take to match consumer's altered behaviors and ultimately make their holiday shopping campaign more relevant and effective. To view the full digital holiday retail report, please follow the link.
For interview or comment inquiries: Contact Jackie DiBella at 516-241-3972 or jndibella(at)gmail(dot)com.
###