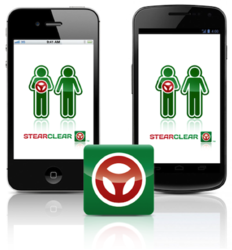 I want my customers to have a great time enjoying our products and also be socially responsible
Ridgewood, New Jersey (PRWEB) November 14, 2012
STEARCLEAR, a New Jersey based designated driving company is preparing to be busier than ever due to the large amount of party goers that will be consuming alcohol this Thanksgiving Eve and throughout the 2012 holiday season. Since Thanksgiving Eve is widely know to be the biggest drinking night of the year, STEARCLEAR is currently hiring more drivers to make sure that projected high demand is satisfied.
Officially launched 3 months ago, STEARCLEAR allows customers to order a designated driver though a smartphone app. Different than a taxi service, STEARCLEAR drives customers and their cars home. To get a ride home, customers log into the STEARCLEAR smartphone app and after ordering a ride can chose available local drive teams based on their eta.
For the past 3 months, STEARCLEAR has seen substantial customer growth in the New Jersey market. There are currently around 2,500 Customers who registered for the service after downloading the STEARCLEAR App. The majority of customers are introduced to the service by their local pub or restaurant, where owners and staff tell customers to "StearClear".
Most owners and bartenders agree that this service is an invaluable asset to help stop instances of DUI related injuries and deaths. "I want my customers to have a great time enjoying our products and also be socially responsible", said Neill Acer, Owner and Brew Master at Defiant Brewery in Pearl River, NY http://www.defiantbrewing.com. Some local bar proprietors, like Neill, are opting to contract STEARCLEAR drivers outside their establishment to drive customers home in their own cars.
STEARCLEAR is operational in the following New Jersey Counties: Bergen, Hudson, Morris, Somerset, Union, and Mercer. STEARCLEAR is managed locally by franchisees, who hire drivers, provide customer service, and work to develop their local market.
STEARCLEAR Corporate plans on opening more franchises throughout the Metropolitan Area within the next couple of months.