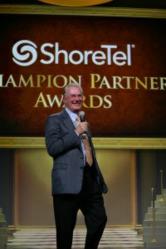 "Best I can tell, ShoreTel has around 2,000 partners worldwide, and we are number 8. Unbelievable!" Dave Casey
Frisco, Texas (PRWEB) November 13, 2012
Shoretel recently held its 2012 Champion Partner Conference in Orlando, Florida. ShoreTel invites more than 2,000 of its partners to come out for a half week celebration of all the accomplishments from that year and also to speak about trends in the market place.
ShoreTel during the conference takes a moment to thank all of their partners and highlight the top 10 partners in the US and Canada. The award is known as The Circle of Excellence. This year Westron Communications for the second time received this high honor. Westron Communication is a Unified Communications company based in Frisco, Texas.
This award is the highest honor ShoreTel bestows upon a partner. It recognizes partners with great revenue success while maintain the best practices for high customer satisfaction.