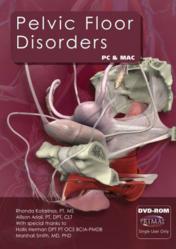 This new learning tool, together with a new learning curriculum, will improve our obstetrics and gynecological resident's knowledge and surgical confidence.
Birmingham, AL (PRWEB) November 14, 2012
Primal Pictures is partnering with the University of Alabama at Birmingham (UAB) to create a virtual reality model of the female pelvis that will be used to educate medical students and surgical residents in UAB's Department of Obstetrics & Gynecology program. Primal Pictures will provide 3D digital images and data for the new learning tool, which UAB will create using the Department of Mechanical Engineering's VisCube-SXTM, an immersive virtual-reality system.
"UAB is developing an innovative educational model that can better prepare tomorrow's surgeons and specialists for medical practice," said Peter Allan, CEO of Primal Pictures. "Using our 3D images and UAB's expertise in both medical curriculum and virtual reality education, we can create and validate an entirely new, reality-based education model."
Once the tool is complete, UAB plans to compare the learning outcomes of its new, immersive curriculum to the traditional anatomic and surgical teaching methods currently used for obstetrics and gynecology residents.
"As the field of female pelvic medicine and reconstructive surgery grows, we are seeking new ways to advance education and improve patient outcomes. By using three dimensional images of the pelvis and pelvic floor in a virtual realty tool, we can enhance our resident's spatial understanding of complex anatomy and surgical techniques," said Dr. Holly E. Richter, Director of the Division of Urogynecology and Pelvic Reconstructive Surgery at UAB. "We are confident that this new learning tool, together with a new learning curriculum, will improve our resident's knowledge and surgical confidence."
Primal Pictures will provide digital 3-D models that simulate the female pelvis and related bony, muscular, connective tissue and vascular structures. Investigators from the Department of Obstetrics and Gynecology and Department of Radiology in the UAB School of Medicine will collaborate with the Department of Mechanical Engineering's Enabling Technology Laboratory in the UAB School of Engineering to digitally construct a virtual pelvis model that will be used to support resident medical and surgical education.
UAB investigators include David R. Ellington, MD and Holly E. Richter PhD, MD, Department of Obstetrics and Gynecology; Corey Shum, Bharat Soni PhD, Department of Mechanical Engineering and Mark E. Lockhart, MD, MPH, Department of Radiology.
Primal's 3D images are created from medical scan data and can be rotated in any direction. Users can control which structures are visible, added, removed, made x-ray or opaque either in groups – muscles, vessel systems and organ systems – or individually, structure by structure. All views can be peeled away, rotated and labeled.
ABOUT PRIMAL PICTURES
Primal Pictures offers the most complete, detailed and medically-accurate 3D model of human anatomy for students, educators and health care practitioners. Primal Pictures' 3D anatomy software is widely adopted in education and it is used for patient, practitioner and student education in over 20 countries. In 2012, over half a million students will learn anatomy using Primal software. A&P Online recently won the British Medical Association's annual prize for the best digital resource.
ABOUT UAB SCHOOL OF MEDICINE
The School of Medicine at UAB is dedicated to the education of physicians and scientists in all of the disciplines of medicine and biomedical investigation for careers in practice, teaching and research. The UAB School of Medicine consistently ranks among the leading recipients of National Institutes of Health funding in the Southeast, and has emerged as a national leader in primary care medical education, in pioneering research that improves people's lives, and in providing humanistic patient care at the bedside.