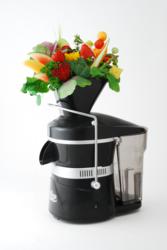 Seattle, WA (PRWEB) November 13, 2012
On November 14, 2012, The Jay Kordich PowerGrind Pro Juicer will be featured on the The View show on ABC TV. Dr. Gadget®, AKA Dave Dettman, will appear on The View to tell viewers about the PowerGrind Pro Juicer. Each member of the studio audience will be given a free PowerGrind Pro, a $394.95 value.
For a limited time, shoppers are being offered a $50 discount on the Jay Kordich Power Grind Pro juicer when they visit BuyJayKordich.com
The Jay Kordich PowerGrind Pro Juicer is the juicer that revolutionized the juicing industry. Its patented new technology delivers more juice and nutrients per ounce of produce, stretching your food dollar. It's a hybrid, using both extracting and grinding to deliver the best of both types of juicers. Delivers ease of use and speed of an extractor combined with the juice volume and juice quality of a grinder.
About Jay Kordich
Jay Kordich is considered to be the father of vegetable and fruit juicing. In 1923, Jay Kordich was born just outside San Diego, California. At the age of 25, Jay was developed a serious illness and was told he may not have long to live. He traveled to New York City to see Dr. Max Gerson who was treating terminally ill patients with fresh raw juices and healthy cleansing diets. Jay began a regimen of large doses of raw carrot/apple juice. Jay's health was restored and the direction of his life was changed forever.
Now jay is a healthy and vibrant 89 years old. He looks and acts like a man half that age. He is out to teach everyone the "secrets" to his long and vital life by consuming more fresh juices on a daily basis.
About Live Foods, Live Bodies LLC
Live Foods Live Bodies, LLC is a health and nutrition company that uses the latest communication technologies to bring cost effective products, services and education to people so they can make better choices for their health. The main message is that juicing is an easy way for people to get more fruits and vegetables in to their diet. Juicing fruit and vegetables is a proven, natural way to lose weight, fight aging and protect against diet related diseases like Heart Disease, Hypertension, Diabetes and Cancer.
Live Foods, Live Bodies provides educational materials, (books, CD's, DVD's, digital ebooks and web videos), proprietary multi-patented juice extractors and a line of whole food based nutritional supplements to the consumer via infomercials, ecommerce, social media and retail. The websites http://www.jaykordich.com and http://www.buyjaykordich.com are dedicated to helping people make better food choices so they can live longer, healthier lives.
About DNA Response
DNA Response, Inc., (DNA) provides turnkey e-commerce, online marketing, and order management services to product marketers in the $300 billion direct response market. DNA clients sell products direct to consumers using TV, radio, print catalogs, web and mobile as their sales channels. DNA's ECOM2™ platform utilizes state-of-the art cloud computing technologies and services to improve operational efficiency by reducing transaction costs, eliminating credit card declines, and lowering order cancellations and product returns, while simultaneously increasing online revenue for our clients. DNA provides universal order management for processing orders in real time from all the sales channels with full visibility to the business for the clients. DNA generates incremental revenues and helps build a brand for clients by providing comprehensive e-commerce and online marketing services.