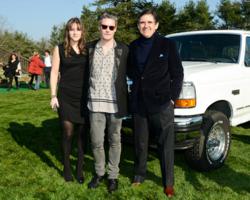 Greenwich, CT (PRWEB) November 13, 2012
The Brant Foundation Art Study Center, a non-profit organization founded by Peter Brant which promotes education and appreciation of contemporary art and design, presented the opening party and preview on Sunday, November 11, 2012 for Nate Lowman: I wanted to be an artist but all I got was this lousy career. The exhibition, on view through March 2013, features recent and new work from the artist, including paintings, collage and sculpture. Also on view on the foundation lawn was the White Ford Bronco, infamous from OJ Simpson's June 17, 1994 car chase. The party concluded with a performance by Gang Gang Dance.
Guests Included: Nate Lowman, Peter Brant, Allison Brant, Stephanie Seymour, Gang Gang Dance, Lizzi Bougatsos, LeeLee Sobieski, Phil Aarons, Rita Ackermann, Alexander Acquavella, David Altmejd, Doris Ammann, Ara Arslanian, Hope Atherton, Maria Bell, William Bell, Max Blagg, Marco Brambilla, Jennifer Brill, Eli and Edythe Broad, Casey Fremont Crowe & Mr. Brandon Crowe, Cecily Brown, Rafael de Cardenas, Scott Campbell, Julia Chiang, Bob Colacello, Dan Colen, Massimo De Carlo, Jeffrey Deitch, Anne Dexter-Jones, KAWS - AKA Brian Donnelly, Laure Heriard Dubreuil, Cheryl Dunn, Stefan Edlis, Louis Eisner, Leo Fitzpatrick, Urs Fisher, Jonah Freeman, Vincent Fremont, Larry Gagosian, Jeanne Greenberg Rohatyn, Suzanne Geiss, Kim Heirston & Richard Evans, Drew Heitzler, Lazaro Hernandez, Stellan Holm, Jane Holzer, Jonathan Horowitz & Rob Pruitt, Chrissie Iles, Paul Kanavos, Warren Kanders, Karen Kilimnik, Young Kim, Adam Kimmel, Max Levai, Kalup Linzy, Alexia Leuschen, Nemo Librizzi, Hanna Liden, Johan Lindeberg, Adam Lindemann, Justin Lowe, Michele Maccarone, Alex Marshall, Patricia Marshall, Piper Marshall, Adam McEwen, Stavros Merjos, Alberto Mugrabi, Mr. & Mrs. David Mugrabi, Robert Mnuchin, Stavros Niarchos, Stuart Parr, Enoc Perez, Elizabeth Peyton, Bill Powers, Richard Prince, Simon de Pury, Michaela de Pury, Carlos Quirarte, Terry Richardson, Renee Rockefeller, Thaddaeus Ropac, Cynthia Rowley, Mera and Donald Rubell, Michelle Rubell, Jason Rubell, Jennifer Rubell, Keith Rubenstein, Inga Rubenstein, Will Ryman, William F. Ruprecht, Olympia Scarry, Stella Schnabel, Patrick Seguin, Amanda Sharp, Per Skarstedt, Lisa Spellman, Pascal Spengemann, Marc Spiegler, Tara Subkoff, Spencer Sweeney, Eve Therond, Jamie Tisch, Svetlana Uspenskaya, Andy Valmorbida, Kim Vernon, Leo Villareal & Yvonne Force, Neville Wakefield, Diana Widmaier-Picasso, Edsel Williams, Aaron Young.
Dusted with mythological fear, loathing, and soil of the spiritual desert, Nate Lowman's work cuts up and requisitions the movies, the street, history, and the news. From a bank teller window shot through with bullets, to black crucifixes modeled on New York City tow truck equipment, to blond, spectral Marilyn, scarred and bloodied by de Kooning's violent brushstrokes, Lowman gravitates toward crimes, absurdities, slip-ups, tragedies, travesties, laughing stocks, write-offs, and disasters. "People treat images the same way that they treat vacation," he says. "I'm trying not to be a tourist all the time – or at least not concerning the interpretation of information."
Lowman's work weaves public history with personal memory, with the result that we feel a strange familiarity in looking over his bikini postcards, magazine clippings, bumper stickers, bullethole decals, car air freshener trees, and smiley faces, as if being reminded of something we already know.
Spread in alkyd dots across a canvas, torn from a tabloid, found on the sidewalk, pasted to the fridge, buried in a shoebox: in Lowman's artistic system, available images and the messages they contain are reprogrammed as expressive tools and keyed into art history. His technique involves themes and indexes – chairs, people pointing at or holding things, swiss cheese - he has a taste for the derelict – battered and broken doors from the refuse heap, flattened aluminum cans, chewing gum, rusted gas pumps like those at abandoned gas stations, passed at high speed on obsolescent highways - and he mingles these souvenirs of the recently bygone with signs that the end is near - ripe crops covered in snow, x-rayed truckfuls of human traffic, flooded suburbs, a smiling ice cream cone announcing I'll Be Dead Soon.
In the room-size installation Four Seasons (2009-2012), each season takes on the qualities of a verb rather than a noun. Wintering, Springing, Summering, and Falling: Jamie Foxx wields his image-damaging Swastika boogie board in Hawaii; snow falls at Ski Dubai, the winter resort built into a shopping mall in the United Arab Emirates; a man drops from the WTC's crumbling North tower; Tonya Harding stumbles on the Olympic ice; Jenna Bush wipes out drunk on the pages of the National Enquirer; workers in Cancun picket for fair wages, throwing a wrench in spring break.
With guilt, innocence, and meanings always in flux, Lowman prefers to focus on the language of images themselves, and how to treat them like the living things they are. The parade of criminals and victims circulated in the Associated Press photos – OJ Simpson, John Walker Lindh, Oliver North, Lindsay Lohan, Nicole Brown Simpson, Amadou Diallo – are inevitably shifting, and to watch them rise and fall, like tracking a storm, or watching paint dry, is to hope for the end to come so that you can be here to see it.
Also on view in The Brant Foundation Art Study Center library will be a selection of chairs and artworks from Mr. Brant and Lowman's personal collections. Featuring artists Andrew Kuo, Josh Smith, Dash Snow, Leo Fitzpatrick, Joe Bradley, Paul McCarthy, Ray Johnson, Lizzi Bougatsos, Dan Colen and Hanna Liden among others.
Nate Lowman was born in 1979 in Las Vegas and received a BS from New York University in 2001. Lowman's recent exhibitions include Swiss Cheese and the Doors: A One Night Stand, Massimo de Carlo, Milan (2012); Cats & Dogs: Hanna Liden and Nate Lowman, Carlson Gallery, London (2011); Three Amigos, American Academy in Rome, Rome (2010); TRASH LANDING, Maccarone + Gavin Brown's enterprise, New York (2011); Fill You With Holes, Carlson Gallery, London (2009) ; The Natriot Act, Astrup Fearnley Museum, Oslo (2009); among others. His work has been included in notable group exhibitions, including those at P.S. 1 Contemporary Art Center, Queens, New York (2005); Hessel Museum of Art and the Center for Curatorial Studies Galleries, both at Bard College, Annandale-on-Hudson, New York, and Serpentine Gallery, London (all 2006); New Museum of Contemporary Art, New York (2007); and Busan Biennial, Busan, South Korea (2008). A suite of works was also included in Haunted: Contemporary Photography/Video/Performance, Solomon R. Guggenheim Museum, New York (2010). Lowman lives and works in New York City.
Nate Lowman is represented by Maccarone, New York; Carlson Gallery, London; and Massimo De Carlo, Milan.
The Brant Foundation Art Study Center has a mission to promote education and appreciation of contemporary art and design, by making works available to institutions and individuals for scholarly study and examination. The Brant Foundation Art Study Center presents long-term exhibitions curated primarily from the collection. The collection is remarkable in that scores of artists are represented in depth, including works from the earliest period of their practice through their most recent works. Currently, The Brant Foundation, Inc., established in 1996, lends works to more than a dozen exhibitions per year.
The Brant Foundation Art Study Center, is located at 941 North Street, Greenwich, Connecticut, and is open Monday through Friday by appointment only. The exhibition will remain on view through March 2013. To schedule an appointment, guests may email info(at)brantfoundation.org.