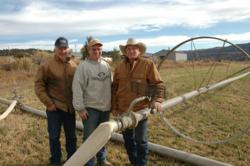 These finalists are examples of the determination, innovation and dedication that characterize agricultural families across Utah. - Dr. Brent Haglund, Sand County Foundation President
Sandy, UT (PRWEB) November 13, 2012
Sand County Foundation, the Utah Farm Bureau Federation, the Utah Cattlemen's Association and Western AgCredit are pleased to announce the finalists for the 2012 Leopold Conservation Award.
"The diversity of these agricultural operations is remarkable, yet they all share a commitment to enhancement of Utah's natural resources," said Brent Haglund, Sand County Foundation President. "These finalists are examples of the determination, innovation and dedication that characterize agricultural families across Utah."
The Leopold Conservation Award, named in honor of world-renowned conservationist Aldo Leopold, is comprised of $10,000 and a Leopold crystal. The award is presented annually in eight states to private landowners who practice responsible land stewardship and management.
The 2012 finalists, listed alphabetically, are:

William Goring, Box Elder County
Karl & Raymond Heaton, Kane County
Dennis Stowell Family, Iron County
"We are very excited to partner with Sand County Foundation and other local organizations to present this award on behalf of the farmers and ranchers of Utah," Leland Hogan said. "This award, however, is great for all of Utah because the recognition and funding helps to preserve and enhance our open space and keep agriculture viable. Utah's farmers and ranchers have a long history of land preservation and a deep commitment to preserving Utah's natural resources. As stewards of the land we want to ensure that history continues well into the future."
The finalists were formally recognized Nov. 8 at the Utah Association of Conservation Districts annual convention in Provo. The Leopold Conservation Award recipient will be honored Nov. 16 at the Utah Farm Bureau annual meeting banquet in Layton.
The Leopold Conservation Award in Utah is sponsored by Western AgCredit, the Lynde and Harry Bradley Foundation, the Natural Resources Conservation Service (NRCS), Utah Farm Bureau Federation, Utah Association of Conservation Districts (UACD) and Farm Credit.
For more information, please visit http://www.leopoldconservationaward.org or contact Matt Hargreaves, 801-233-3003, matt.hargreaves(at)fbfs(dot)com.
ABOUT THE LEOPOLD CONSERVATION AWARD
The Leopold Conservation Award is a competitive award that recognizes landowner achievement in voluntary conservation. The award consists of $10,000 and a crystal depiction of Aldo Leopold. Leopold Conservation Awards are currently presented in: California, Colorado, Nebraska, South Dakota, Texas, Utah, Wisconsin and Wyoming
The awards are presented to accomplish four objectives: First, they recognize extraordinary achievement in voluntary conservation on the land of exemplary private landowners. Second, they inspire countless other landowners in their own communities through these examples. Third, they provide a visible forum where leaders from the agriculture community are recognized as conservation leaders to groups outside of agriculture. Finally, the award program builds bridges between agriculture, government, environmental organizations, industry and academia to help advance the cause of conservation on private lands. http://www.leopoldconservationaward.org.
ABOUT SAND COUNTY FOUNDATION
Sand County Foundation is a private, non-profit conservation group dedicated to working with private landowners to improve habitat on their land. Sand County's mission is to advance the use of ethical and scientifically sound land- management practices and partnerships for the benefit of people and their rural landscapes. Sand County Foundation works with private landowners because the majority of the nation's fish, wildlife, and natural resources are on private lands. The organization backs local champions, invests in civil society and places incentives before regulation to create solutions that endure and grow. The organization encourages the exercise of private responsibility in the pursuit of improved land health as an essential alternative to many of the commonly used strategies in modern conservation. http://www.sandcounty.net.
ABOUT THE UTAH FARM BUREAU FEDERATION
The Utah Farm Bureau Federation (Farm Bureau) is Utah's largest general farm and ranch organization, made up of 28 county Farm Bureaus and more than 28,800 member families. Its mission is to improve the net income of the state's farmers and ranchers and to represent, protect, and promote agricultural interests throughout the State of Utah. It seeks to find solutions to problems of the farm, ranch, and the rural community through political action, educational, and informational means. The Farm Bureau is a non-governmental, non-partisan, voluntary membership organization, and its efforts are based on grassroots policies developed by members at the local, county, and state levels. Farm Bureau strives to protect and improve the ability of farmers and ranchers engaged in production agriculture to provide a safe and reliable supply of food, fiber, and fuel through responsible stewardship of their resources. It is affiliated with the American Farm Bureau Federation, the world's largest general farm organization, with more than 6 million family members in 50 states and Puerto Rico. http://utfb.fb.org.
ABOUT THE UTAH CATTLEMEN'S ASSOCIATION
The Utah Cattlemen's Association is a cattle industry, member driven, organization formed in 1890 for the purpose of promoting and protecting the business of raising cattle in the state of Utah. The association works to uphold the rights of all persons engaged in the cattle business. Members are encouraged to improve the quality of cattle and beef produced and adopt good principles of management while caring for livestock and the land. The association represents cattlemen on state and local issues and is affiliated with the National Cattlemen's Beef Association on national issues. http://www.utahcattlemen.org.
ABOUT WESTERN AGCREDIT
Western AgCredit is the leader within the agricultural finance industry with over 95 years of lending to farmers in the Intermountain West. It currently serves approximately 1,700 customers with a full range of credit and financial services, as well as providing financial and volunteer support to several agricultural and community activities, including, among others, Utah Farm Bureau, Utah Cattlemen's Association, Utah Farmers Union, FFA and 4-H. http://www.westernagcredit.com.