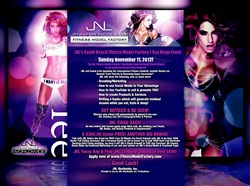 Jennifer Nicole Lee is the CEO and Presiden of the Fitness Model Factory, where she truly is making the dreams come true for fitness enthusiasts and real women alike.
Miami, Fl (PRWEB) November 13, 2012
Living legend Jennifer Nicole Lee and her Fitness Model Factory dream team enjoyed a super successful mega event on November 11, 2012 on South Beach. Coined "Sexy on South Beach" JNL celebrates yet another major accomplishment with making the dreams come true in their fitness goals. And asked why South Beach was chosen at the location to her next Fitness Model Factory 1 Day Mega Event? JNL responded by stating, "It's only natural that I choose my own favorite city in which I live, following up from Los Angeles and New York City, which are the two other cities that I have held my Fitness Model Factory Events. South Beach serves as the most beautiful backdrop to any photo shoot, and these women who I hand select out of thousands of applicants will love the Sports Illustrated bikini photos that my team will capture of them. The ocean, the sand, the beaches, blue sky and blue water is such a sunny and tropical landscape that the photos will certainly be iconic for all women who are lucky enough to be chosen. I look forward to also motivating them to be their best with my seminars, workshops and consultations."
By way of background, Jennifer Nicole Lee is the CEO and President of the Fitness Model Factory. The Fitness Model Factory is JNL's brain child of what she needed to create in the fitness and wellness, beauty glamour industry. It's a full production house providing consulting, insight, and many resources from videography, campaigns, coaching and also the baseline photography needed for promotional uses.
Jennifer Nicole Lee opened up her Miami based Fitness Model Factory last year, in March, with a major grand opening on April the 16th 2012. When asked what the future is for her Fitness Model Factory Production house, JNL stated, "JNL Worldwide, Inc has now joined forces with some of the biggest names, brands and labels due to the fact that I opened the Fitness Model Factory Production studio. Im proud to say that my Fitness Model Factory (FMF) is now an iconic legendary destination spot that is so hot, many travel over 30 hours by plane to enjoy the experience of working with my team and creating life long memories, media, photos and videos that will give them joy the rest of their lives."
One thing is for sure, with over 50 magazine covers, and her 3rd book out entitled The Fun Fit Foodie Cookbook, and her 4th book in the works called "Beyond the Bikini," and her JNL Fusion exercise 12 DVD set soon to launch at http://www.JNLFusion.com, Team JNL shows no signs of slowing down.