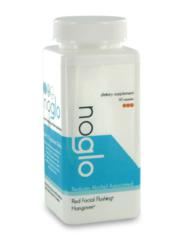 NoGlo is really something that people have been waiting for...
San Francisco, CA (PRWEB) November 19, 2012
Approximately 1 billion people globally suffer from alcohol intolerance, or what is also known as the "alcohol flush reaction". After consuming as little as half a standard drink, the skin can become inflamed, turning bright red. People unfamiliar with this problem might assume that an individual has suffered a severe sunburn; however, this is a condition many refer to as "Asian Glow". Caused by a genetic mutation, the flush reaction predominantly affects individuals of East Asian descent, giving rise to the ethnically directed nickname.
What is most troubling about this external symptom are the disease risks that come with it. People who suffer from the alcohol flush reaction are at a significantly higher risk of gastric and esophageal cancer, liver cirrhosis, and even Alzheimer's Disease. Unlike those with normal alcohol metabolism, individuals who flush will experience dizziness, nausea, increased heart rate, elevated body temperature, and more intense hang-over symptoms after consuming only small amounts of alcohol.
Composed of vitamins, antioxidants, and amino acids, NoGlo is a patented dietary supplement specifically designed for people who experience "Asian Glow". NoGlo reduces the build-up of acetaldehyde, a compound that accumulates in the blood as ethanol is metabolized. This accumulation is greatly increased in people who flush, resulting in the "glow" itself. A compound 30 times as toxic as ethanol and a known carcinogen, acetaldehyde is strongly correlated with the previously stated ailments, and causes oxidative damage in the body.
Founded by UC Berkeley graduates, the creation of NoGlo is an effort to reduce the acetaldehyde build-up that occurs while drinking, resulting in three advantages:
1) A decrease in the cosmetic, and often anxiety-producing symptom of red facial flushing.
2) A decrease in the oxidative damage, dizziness, and nausea experienced during alcohol consumption, which are greatly accelerated in those that flush.
3) A reduction in hangover symptoms such as headache, nausea, and physical discomfort.
These benefits are not exclusive to those that flush, as NoGlo provides healthier alcohol metabolism to any drinker.
"The luxury of being able to have a couple glasses of wine and not worry about feeling and looking poorly is one people take for granted," says Asian-American wine collector Al Chan. "NoGlo is really something that people have been waiting for, and for me, it has changed the way I enjoy a simple dinner with friends. I don't turn red after one glass and people don't make embarrassing comments about it, but more importantly, I feel better and healthier when I do have a few drinks".
Already receiving very positive reviews from research volunteers in the United States and internationally, NoGlo is the first product of its kind and is based entirely on scientific literature. "It is difficult to be taken 100% seriously in an industry that comes with a lot of skepticism. This is why we've built the most legitimate product we feel possible from the research and theory available today, and have actually tested the product out" says venture capitalist and board member Scott Smith, who is part of an experienced group of investors and team members who have built NoGlo.
A big advantage to the NoGlo supplement when compared to others? You can actually feel the benefits, and if that isn't convincing, you can see them. NoGlo can be purchased att http://www.GoNoGlo.com.
###