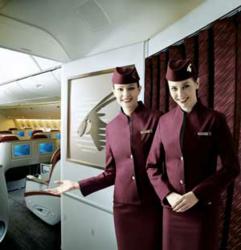 An excellent in-flight entertainment experience is one of the most important features an airline can offer their business class passengers. It shows that the airline will spare no expense to give their passengers the best
(PRWEB) November 14, 2012
Technology is advancing at a rate where it's hard to keep up with the latest products and innovations. Home entertainment systems have taken on a whole new look over the past five years. The days of bulky televisions and crammed spaces filled with audio receivers, large surround sound speakers and a mess of cables have vanished. The airline industry is one industry that depends on keeping up with the latest in entertainment technology, mainly for their business and first class flight cabins. They want their business class passengers to feel at home with some added perks they may not get from their own home entertainment set up.
Lets Fly Cheaper.com reveals their top picks for the best in-flight business class entertainment.
"An excellent in-flight entertainment experience is one of the most important features an airline can offer their business class passengers. It shows that the airline will spare no expense to give their passengers the best" says Lets Fly Cheaper CEO, Ramon vanMeer.
Virgin Atlantic takes the honor of securing the number one spot. The airline recently introduced their new Upper Class Suites which have revolutionized in-flight entertainment. Each suite features a 12.1 inch touchscreen monitor with a touchscreen handset that runs on Virgin's own JAM entertainment system. Passengers can connect their own devices to watch and listen to their own media. "Virgin's CEO and founder, Richard Branson continues to show that he will spare no expense and has impeccable taste. He really knows what you want" says Lets Fly Cheaper's marketing director, Sean Delanty.
Singapore Airlines lands in the second place spot. "Singapore maintains a very young fleet of wide-body aircraft with the latest in entertainment technology. They have some very cool options that no one else has yet" says vanMeer. Each business class seat features an interactive remote and large, vibrant LCD monitors. In addition all business class customers have the option to use top quality noise canceling headphones. Singapore was also the launch customer for the new eX2 entertainment system and the first airline to feature a selection of 3D games. Singapore's interactive application options also allow the customer to learn a new language, read up on the latest news and browse highlights of their destination city.
Dubai's Emirates secures the third place spot. The airline has the youngest fleet of wide-body airplanes in the world. Every aircraft is well equipped with the latest entertainment system technology. Emirates business class features a touch screen remote that accesses a state of the art wide screen monitor and features 1400 channels of movies, games, television shows, music and more.
Rounding out the top five are Qatar and Cathay Pacific Airways.
1. Virgin Atlantic
2. Singapore Airlines
3. Emirates
4. Qatar Airways
5. Cathay Pacific Airways
6. Delta Airlines
7. Etihad Airways
8. Qantas Airlines
9. Virgin Australia
10. Turkish Airlines
Lets Fly Cheaper.com is a low fare specialist, focused on supplying cheap business class flights to international destinations worldwide. To book the lowest fare contact one of their travel agents at 1-800-240-0461 or go to http://www.letsflycheaper.com
Sean Delanty, Director of Marketing
Lets Fly Cheaper
800-240-0461
http://www.letsflycheaper.com