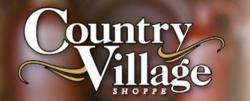 Customers can add a hint of the season to every room of the house.
Appleton, WI (PRWEB) November 13, 2012
Fall days are fading away, but there is no need to dread the transition to the winter months. Country Village Shoppe is now carrying a wide variety of country home décor products with tasteful holiday accents, allowing customers to add a hint of the season to every room of the house.
Country Village Shoppe's updated winter-themed decorative items cover all areas of the home, from the floors to the walls. Country quilts provide one option for adding seasonal warmth. There are also rugs available to enhance any room during the winter and keep the snow from being tracked in!
Popular year-round decorations can be transformed into beautifully themed ornaments with the help of Country Village Shoppe's winter products. Lanterns, a particular favorite in many homes, can be enhanced with winter-inspired candle sleeves and holiday mantle scarves. Valances will give your home a winter wonderland feeling.
For more holiday decorating ideas, Country Village Shoppe has a Country Sampler collection that displays season-themed items, making it even easier for customers to find warm and cozy décor year round.
For more information about Country Village Shoppe and their seasonal selections, visit
http://www.countryvillageshoppe.com/.
About Country Village Shoppe:
Country Village opened its doors in Appleton, Wisconsin in 2006. Owned by a mother/daughter team, they strive for the very best in product selection, quality and customer service. At Country Village, country is not just a style of decorating, but a frame of mind. Create your own personal escape from the outside world and relax in your own home, decorated to suit your style. Browse their vast inventory of country home décor items including country curtains, quilts, candle sleeves, rugs and more! Whether you are looking to decorate a whole house or simply add an accent to a room, Country Village can help you decorate your dream home.