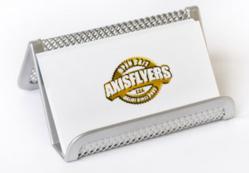 We've been producing these custom business card styles for years.
Miami, FL (PRWEB) November 16, 2012
In response to popular demand, family-owned and operated Axisflyers.com has just added a selection of custom business card printing styles to its website http://www.axisflyers.com . The business card printing section on the Axisflyers site now includes Silk laminated, Silk laminated w/ Spot UV, Magnet, Foil stamp, Foil Stamp w/ Spot UV, Full Color Foil, 4D Lenticular cards.
Silk laminated cards are silky soft to the touch, tear and water-resistant. Add high gloss spot UV to bring out/ highlight images on your card. You can also use spot UV on solids as a glossy clear ink; this is probably the best and most popular use.
Foil business cards are now available in traditional Gold or Silver foil stamp. It is thin yet durable shinny metallic applied to your cards. We also now offer full color CMYK or Akuafoil foil, a radiant foil finish in color.
4D Lenticular business cards offer a new type of marketing. A business card you move up and down, and see 2 or 3 different images depending on your design. As defined on Wikipedia "lenticular printing include prizes given in Cracker Jack snack boxes that showed flip and animation effects such as winking eyes, and modern advertising graphics that change their message depending on the viewing angle." Some customers call it "holograms" or "the magic hidden image thingy" However you describe it these cards will catch anyone's attention.
"Now for the first time customers no longer have to submit a custom request. You visit the business card printing section and choose the customization. We've been producing these custom business card styles for years." said David Villar Sales & Marketing Director for AxisFlyers.com (http://www.axisflyers.com).
Reacting to customer feedback is a staple in the culture at AxisFlyers.com. Numerous changes and additions have been made through the years to better the customer experience at AxisFlyers.com.
About AxisFlyers.com:
AxisFlyers.com prides itself on being the low-cost producer of high-quality commercial printing. They distribute printing across the country directly to large and small businesses and via wholesalers / resellers. There products include clubflyers, flyers, business cards, posters, CD covers, postcards, doorhangers, folders, banners, signs, stickers, plastic cards, rack cards, magazines, books and graphic design services.