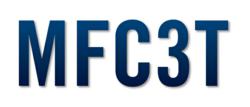 The GTACS contract has been touted by many defense industry organizations as one of the top 10 contracts because of the impact it will have in enabling battlespace awareness for our warfighters who go into harm's way to secure our freedom.
McLean, Virginia (PRWEB) November 13, 2012
MorganFranklin C3T LLC (MFC3T), a joint venture led by MorganFranklin Corporation and formed with Praemittias Systems LLC and CSMI, today announced that it has been selected as a prime contract awardee on the Global Tactical Advanced Communications Systems (GTACS) and Services contract, receiving awards in both the restricted and unrestricted contract suites. The five-year, multiple-award Indefinite Delivery Indefinite Quantity (IDIQ) contract has a $10 billion ceiling and was issued by the U.S. Army Contracting Command-Aberdeen Proving Ground (ACC-APG). The contract supports the U.S. Army's Program Executive Office for Command, Control and Communications-Tactical (PEO C3T).
The GTACS contract is a multiple-award vehicle for the design, development, acquisition, production, deployment, operation, maintenance, and associated services for PEO C3T tactical systems and hardware. C3T systems include all programs, projects, and products managed within PEO C3T and its project managers (PMs), product managers (PdMs), and product directors (PDs).
MFC3T was one of 20 contract awardees that will be responsible for developing, fielding, and supporting networked battle command solutions to enhance warfighter effectiveness. MFC3T is a joint venture of three highly qualified businesses specifically founded to support the C3T mission: MorganFranklin Corporation, Praemittias Systems LLC, and CSMI. MorganFranklin is a McLean, Va.-based business and technology consulting firm that delivers national security, financial management, and performance improvement solutions to government and industry clients. Praemittias Systems and CSMI are both service-disabled veteran-owned small businesses (SDVOSB). Praemittias Systems is headquartered in Lorton, Va., where it operates a 16,000-square-foot engineering and production center. CSMI is headquartered in Lawrence, Mass.
"The MFC3T joint venture is proud to be selected to provide critical, wide-ranging services to PEO C3T through the GTACS contract by designing, building, and supporting enhanced networked battle command solutions for our warfighters over the course of the next five years. MorganFranklin is honored to partner with Praemittias Systems LLC and CSMI on this critical contract," said Rob Franklin, MorganFranklin co-founder and president of the National Security Solutions division. "The GTACS contract has been touted by many defense industry organizations as one of the top 10 contracts because of the impact it will have in enabling battlespace awareness for our warfighters who go into harm's way to secure our freedom."
MFC3T is a purpose-built team ready to assist PEO C3T in its mission of providing secure emergency, extraordinary or temporary communications, and interoperability across the Department of Defense (DoD). By coming together in a joint venture as a single prime contractor, MFC3T offers benefits generally associated with "IT Top 50" firms, such as consolidated contract administration and depth and breadth in all technical areas, combined with the agility and innovative culture typical of a small company. Learn more at http://www.MFC3T.com.
PEO C3T provides U.S. soldiers with the computer systems, radios, and communications networks they require to fight and win the nation's wars. PEO C3T develops, acquires, and fields to all Army units a range of tactical products including specialized software applications, generators, radios, computers, servers, and turnkey satellite communications systems. PEO C3T integrates these systems so they function seamlessly, while providing on-site training and support for the systems deployed worldwide. Visit http://peoc3t.army.mil/c3t to learn more.
# # #
About MorganFranklin
MorganFranklin is an execution-oriented business and technology solutions company. We deliver program and mission support services and C4ISR solutions to military, homeland security, and intelligence customers. Our mission is to harness the power of people, processes, and advanced technology to help clients anticipate, manage, and overcome dynamic national security challenges. With fast access to diverse expertise—from IT operations to intelligence analysis—we look at challenges from every angle to satisfy immediate needs and develop long-lasting and sustainable business and technology solutions. Learn more at http://www.morganfranklin.com.
About Praemittias Systems LLC
Praemittias Systems is an agile engineering team experienced in all aspects of project life cycles including product requirements development, systems architecture, rapid prototyping, manufacturing, user training, and deployment support. At our 16,000-square-foot facility in northern Virginia, we have co-located Engineering, Production, Test, Logistics, and Operational professionals working together daily. The synergy generated by this unique and elite team allows us to offer comprehensive, turnkey solutions, starting from the kernel of a design concept and enduring through long-term maintenance in theatre. Learn more at http://praemittias-systems.com
About CSMI
Founded in 2002, CSMI is a service-disabled veteran-owned small businesses (SDVOSB) and industry-leading professional services firm formed specifically to provide "Mission Critical" support to U.S. Defense, Intelligence, Law Enforcement, and Diplomatic Agencies by combining its deep domain knowledge and exceptional abilities to ensure our clients achieve success in their most critical missions by providing the responsiveness, innovation, and flexibility that only a small mission-focused organization can deliver. Learn more at http://www.csmi.com.