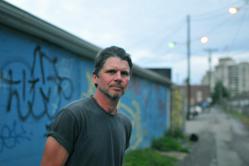 Cincinnati, OH (PRWEB) November 13, 2012
Singer-songwriter extraordinaire Chris Knight continues to tour behind his latest Little Victories, and will perform in The Ballroom at the Taft Theatre on February 13th.
General admission tickets, $17 ADV & $22 DOS (plus applicable fees), go on sale this Friday November 16th at 10 AM at http://www.ticketmaster.com, http://www.tafttheatre.org, the Taft Theatre Box Office and all Ticketmaster outlets including select Kroger stores. Charge by phone at 1.800.745.3000.
Chris Knight's story begins six miles outside of Slaughters, Kentucky, a remote coal-mining town of 200 people where Knight was raised and still lives with his wife and children on 40 wooded acres. Chris graduated from Western Kentucky University in 1984 with a degree in agriculture and began working for the state as a strip-mine reclamation inspector. Following his mother's death in 1992, he began writing songs about the people, places and pain that he's seen, known and continues to live. His carefully honed character sketches and surely paced narratives evoke real rural life more accurately and honestly than anything you'll hear on pop-country radio —not just the glory and the romance of ordinary Southern existence, but the darkness and the disappointments. Chris Knight's characters have dirt under their fingernails and life behind their eyes. His live shows stay with you like a long hot summer.
Reaction to his 1998 debut album Chris Knight – which included the hit Americana and AAA tracks "It Ain't Easy Being Me," "Framed" and "Love And A .45" – was immediate, with writers nationwide comparing him to everyone from John Prine and Neil Young to Johnny Cash and Nebraska-era Springsteen. Chris' last studio albums: "Enough Rope" and "Heart Of Stone" stand as unprecedented testaments to Knight's artistic evolution, as well as the albums that have finally kicked down the doors of success on Knight's own terms. "When you have you have something that qualifies as a successful artistic endeavor," says Gary Nicholson (Grammy-winning producer known for his work with artists ranging from Wynonna to Delbert McClinton.), "it shows the commonality of human experience. That's what Chris is a master at: He's able to invite you into his world and you're able to identify with the same emotions he's expressed. He consistently pulls that off like never before." "Breakthrough music always defies the norm," says Ray Kennedy (renowned producer/engineer for Steve Earle, Lucinda Williams, John Mellencamp, etc) explains, "The longest running careers are the ones that rub against the grain and don't fit in. I think Chris Knight is one of the premiere singer/songwriters of our time and it's way past time that the rest of the world finds that out. If there's any justice in the world, he will be held up as one of the greatest singer/songwriters out there."
Frank Liddell (Chris' first producer of the self titled: "Chris Knight" and producer of Miranda Lambert, Lee Ann Womack, etc) spearheaded the release of "The Trailer Tapes" and "Trailer II", early acoustic recordings capturing the artist in his true element before any possible influence from the Nashville community. A true pioneer, in the school of Lomax's field recordings, Frank documented Chris' body of work. "These tapes are like an amazing photograph out of an old Life Magazine, before Photoshop or fancy editing tricks, Liddell says. "What Chris was doing could be harsh, like coffee or whiskey, but he is the most honest writer I've ever heard in my life".
Chris Knight is sometimes dark, often intense and always without compromise. He is an artist that unfolds with the power and fury of Cormac McCarthy meets Copperhead Road.