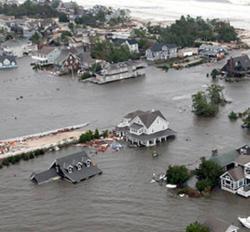 Millions of people have been affected by Hurricane Sandy...
Neptune, NJ (PRWEB) November 13, 2012
Hurricane Sandy impacted approximately 24 of the United States from Florida to Maine, but the most severely damaged states were New York and New Jersey. Sandy moved North as a Category 1 Hurricane on its way up the east coast October 29 before turning North-Northwest and making landfall near Atlantic City, New Jersey.
Millions of people have been affected by Hurricane Sandy by way of devastation or damage to their homes and property, flood damage, wind damage or loss of power and heat for a prolonged period of time.
Resources from across the country have responded to assist the east coast states including law enforcement, fire and emergency services, utility companies and other disaster relief groups.
"Our local area was devastated by Hurricane Sandy", said Chief Donald Colarusso, President of All Hands Fire Equipment a leading supplier of first responder and firefighter gear, "I have seen a tremendous outpouring of resources into our county, including seeing a Disaster Medical Assistance Team (DMAT) team from Pennsylvania, the Mississippi State Police and utility crews from Oregon, Nebraska, Indiana and other states. It's great to see so many wonderful people helping out".
Individuals and businesses affected by Hurricane Sandy are urged to reach out to the following resources for assistance:

Visit online disasterassistance.gov or call (800) 621-3362 (TTY (800) 462-7585) Visit online at fema.gov
Outside resources have poured into the region hardest hit by the hurricane, but many people are still asking how they can contribute to the relief effort. All Hands Fire's suggestions include:
Donations to the American Red Cross can be made through their website at RedCross.org . Alternatively, calling (800) RED-CROSS, or texting the word REDCROSS to 90999 will place a $10 donation that will be applied to the corresponding telephone bill. The Red Cross also welcomes those who wish to volunteer their services. For further details, prospective volunteers can visit RedCross.org .
The newly established Hurricane Sandy New Jersey Relief Fund is accepting donations to assist families in New Jersey who were impacted by Hurricane Sandy. Donators can visit their website at SandyNJReliefFund.org or mail donations to: Hurricane Sandy New Jersey Relief Fund, PO Box 95, Mendham, NJ 07945-0095. Their email address is info(at)sandynjrelieffund(dot)org .
The Terry Farrell Fund receives firefighting and rescue equipment and redistributes this equipment to fire departments in need. More information can be found at TerryFund.org
NJ Governor's Office of Volunteerism is also accepting volunteers to help with the Hurricane Sandy relief effort within the state of New Jersey.