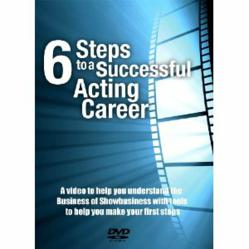 The DVDs are divided into six helpful chapters, geared toward helping an actor develop the necessary skills and set realistic goals
NEW YORK, New York (PRWEB) November 19, 2012
Respected New York casting expert Aaron Seals announces the release of his DVD, 6 Steps to a Successful Acting Career. Designed for the beginning actor, 6 Steps to a Successful Acting Career outlines six steps each actor should follow to find success as they enter the business.
Seals, who wrote, directed and produced the video, owns NYCastings (http://www.NYCastings.com/), one of the most successful talent casting companies in the country. NYCastings has more than 11 years in the business, casting talent for hundreds of productions each month. 6 Steps to a Successful Acting Career includes advice from a variety of professionals, including acting teacher and former Tony-nominated director Terry Schreiber, successful casting director Angela Mickey, actress and producer Summer Crockett Moore, and many more.
The video is broken into seven separate sections, including a section for children and their parents. The kids section explores issues specific to child actors, including obtaining work permits and the importance of children and parents working as a team in the business.
Those who buy the DVD are also granted access to the companion website, http://www.6stepstoacting.com. On this site, aspiring actors will be able to find nearby acting schools, unions, and other helpful organizations for support while embarking on their acting careers.
The DVDs are divided into six helpful chapters, geared toward helping an actor develop the necessary skills and set realistic goals. Those chapters are:

Chapter One— Designed for the novice, chapter one deals with what an actor needs to do to begin developing his or her craft. This chapter debunks the myth that you must live in either New York or Los Angeles to get training as an actor, emphasizing that actors can hone the craft wherever they live.
Chapter Two—Professional actors and models describe the different types of work and how to find that type of work in your area. The professionals outline the difference between film, television, and theater work and describe the best place to live for each type.
Chapter Three—Industry experts review the different types of skills required to do specific types of jobs, from film work to television commercials to stage acting.
Chapter Four—This chapter describes the marketing skills that are needed to "sell" oneself both to others in the industry and through interviews with the media.
Chapter Five—Professionals describe what an actor should expect day after day in the business, emphasizing that overnight successes are rare.
Chapter Six—To help save money while climbing the ladder, experts recommend do-it-yourself tips.
6 Steps to a Successful Acting Career is useful not just to actors, but to those who aspire to greatness in any challenging career. At a cost of only $19.95, 6 Steps to a Successful Acting Career is available at many retailers, including Best Buy, Wal-Mart, Tiger Direct, Barnes & Noble , and Amazon.