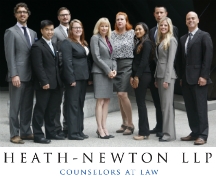 The term 'grandparents' rights' is commonly misused in California
San Francisco, CA (PRWEB) November 13, 2012
When it comes to the rights of grandparents to see their grandchildren, San Francisco child custody attorneys of Heath Newton Counselors at Law explain there is still hope for visitation when family complications take a turn for the worst.
In California, it's the parents who make the rules and determine who spends time with their children. Parents are entitled to make the lifestyle, general welfare, educational, religious, and medical decisions for their child, and the courts support this right. That usually includes whether or not the children get to see their grandparents.
"The term 'grandparents' rights' is commonly misused in California," says Robert Kamin, associate attorney of Heath Newton. "While California law does recognize that it's sometimes in the best interests of grandchildren to have visits with their grandparents, there is no grandparent 'right' to see their grandchildren, per se."
Kamin continues to explain that although these rights may not legally exist, often times grandparents are granted visitation under certain circumstances, even against parental wishes. "In cases where the primary guardians have proven to be undesirable or unreliable, the grandparents are sometimes granted certain privileges to ensure the child's wellbeing."
In this scenario, a grandparent must overcome a difficult legal presumption that it is in the child's best interest to visit with the grandparent. In cases where no divorce or similar proceeding is established, a grandparent may not even have standing to petition the court for visitation rights.
In California, once a grandparent is before the court, two important elements will need to be demonstrated:
1. The best interests of the grandchild.
2. A pre-existing relationship between the grandparent and grandchild
"The bottom line is, it's imperative that the court is shown that visiting with the grandparent is in the best interests of the child," says Kamin. "It is not about what the grandparent may want—it is about the child."
Kamin says showing that the grandparent had a relationship with the grandchild before the parent(s) diminished contact also helps the case, and the stronger the pre-existing relationship was, the stronger the case.
California grandparent rights such as they exist are codified in California state law. Click here or visit http://www.leginfo.ca.gov/cgi-bin/displaycode?section=fam&group=03001-04000&file=3100-3105 to be taken directly to the relevant statute.
For more information on how the grandparents' rights law applies to an individual situation, it is best to consult with a qualified San Francisco family law attorney. Heath Newton Counselors at Law welcome these calls at (415) 398-1290 or email them at info(at)heathnewton(dot)com.
About Heath Newton LLP:
Heath-Newton LLP specializes in family law, asset protection and estate planning services. Based in San Francisco, their boutique firm has earned a reputation for managing their clients' cases well, reaching successful resolutions — and minimizing costs and disruption to their clients' lives.
They have handled a long list of family-law cases, including a broad range of issues facing new families (such as domestic partnerships, premarital agreements, adoption and more), as well as divorce, asset division, child custody and child and spouse support. They also have extensive experience in San Francisco estate planning, wills, probate, mediation, living wills and trusts.
Collectively, their attorneys have thousands of hours of experience, allowing them to be both efficient and effective. They are guided by a practical approach that emphasizes avoiding litigation to minimize costs and disruption; however, they can and will be fierce litigators when all other strategies have proven ineffective. For more information visit their website at http://www.heathnewton.com. To discuss a situation with one of their attorneys, or to speak with a San Francisco divorce attorney, please call them at (415) 398-1290.