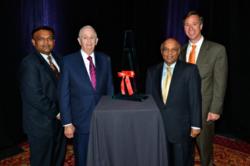 We are grateful to be recognized for these two prestigious awards. Our founding fathers' vision has allowed us to achieve this level of success, and we are especially thankful for our associates who strive for excellence in everything that they do.
Greenville, South Carolina (PRWEB) November 13, 2012
JHM Hotels recently received the Marriott Partnership Circle Award and the Spirit to Serve Award at the MINA Conference held in Marco Island, Florida. The coveted Partnership Circle Award is the highest honor Marriott presents to its franchise partners for hospitality excellence. This year it went to the five top full service franchise partners, recognizing companies who live Marriott's vision, share a mutual long-term commitment to the business, fully embrace Marriott's brand initiatives, focus on associates to create a well-managed and engaged workforce, invest in hotel product and provide outstanding customer service.
"All five recipients are repeat winners, consistently performing at the upper echelon of Marriott's industry-leading full service franchise community. Each has previously won multiple awards for service, food & beverage and product leadership," said Jim Fisher, Chief Owner & Franchise Services Officer, Marriott International. "It is an honor to again recognize these hospitality leaders for their shared commitment to excellence. The lodging industry has faced a number of challenges over the past several years, but it hasn't diminished the focus that these five have demonstrated. The results bear out the level of success they have again achieved."
JHM Hotels was also given the Spirit to Serve Award, in recognition for its ONE Initiatives launched in 2012. ONE, which stands for Outreach, Nurture, and Encourage, strives to give back 1% of the company's profit, product, and manpower to serve the community. JHM Hotels feels strongly about the importance of making a difference, and has made a significant impact in the areas of education and poverty relief this year. To be singled out by Marriott as the Best of the Best in the area of social responsibility and community involvement is a tremendous honor.
JHM Hotels' president, D.J. Rama says, "We are grateful to be recognized for these two prestigious awards. Our founding fathers' vision has allowed us to achieve this level of success, and we are especially thankful for our associates who strive for excellence in everything that they do. We truly appreciate the opportunities Marriott gives us, allowing us to share the dream of outstanding hospitality service."
About JHM Hotels:
JHM Hotels, a premier lodging company, based in Greenville SC, has developed, acquired, owned, and operated hotels throughout the United States for 37 years. The company currently owns and operates 42 hotels with over 7200 guestrooms, located in the United States and India, operating under such well-known brands as Hyatt, Marriott, Hilton and Starwood. For more information, visit our web site at http://www.jhmhotels.com