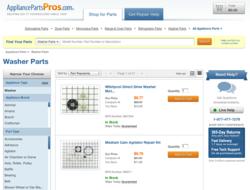 We want to provide our customers with the resources and information to easily fix almost any home appliance.
Encino, CA (PRWEB) November 14, 2012
In a world where people are quick to throw away broken appliances and purchase costly replacements, AppliancePartsPros.com aims to educate consumers on the ease and cost efficiency of an at-home DIY repair. With that, the company is pleased to announce the launch of its new website.
An improved search function allows customers to find the parts they need without requiring part or product numbers. In addition, the new site features intuitive filters to select the right part based on appliance type and brand, as well as by part type and color. With over 1.9 million parts in stock, 24/7 customer support, 365-day hassle-free returns, and the ability to get repair help from experienced technicians, AppliancePartsPros.com makes it easy to find the part and guidance needed to complete nearly any appliance repair.
"With the launch of this new site, we hope to streamline the DIY process for our customers," says Roman Kagan, CEO. "We want to make it easy for our customers to find the part they need, but we also want to provide them with the resources and information necessary to easily fix almost any home appliance without the need to call in a repair technician."
An intense focus on the customer is at the heart of everything AppliancePartsPros.com does. Recently, Bizrate Insights awarded the company with the Circle of Excellence Award for the sixth year in a row. Based solely on customer feedback, the Bizrate Circle of Excellence Award recognizes those online retailers within the Bizrate Insights North American Retail Network who have demonstrated outstanding performance, as rated by their customers, throughout a one-year period.
AppliancePartsPros.com is also proud to have earned the highest rating possible – ELITE – from STELLAService. STELLAService is an independent company that evaluates the shopping experience of thousands of online retailers by doing undercover site usability tests, product orders and returns, and interactions with customer service representatives. AppliancePartsPros.com's STELLAService ELITE rating puts it in the same group as companies like Zappos.com, Apple, L.L.Bean, 1-800-Flowers.com, and Crutchfield.
In addition to its new website, AppliancePartsPros.com provides general appliance maintenance and repair tips and tricks on its Facebook, Twitter, and YouTube channels.
About AppliancePartsPros.com:
AppliancePartsPros.com has helped millions of people fix their appliances since it was founded in 1999. With over 1.9 million parts in stock, award winning customer service open 24/7, fast parts delivery (less than 2 days on average), and 365-day hassle-free returns, the company makes it easy to find the right replacement part for broken appliances. AppliancePartsPros.com also provides "Ask a Pro" free tech support and how-to videos.