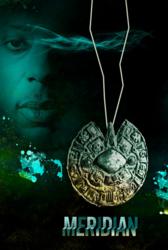 "I've always tried to push the creative boundaries of the mediums I work in, and Fourth Wall Studios' technology really empowered me to tell the kind of interactive, immersive story I've always wanted to tell." - Joe Penna aka MysteryGuitarMan
Los Angeles, CA (PRWEB) November 13, 2012
Emmy Award-winning Fourth Wall Studios has joined forces with visionary YouTube creator Joe Penna, aka MysteryGuitarMan, to release a new RIDES.tv series called "Meridian." The three-episode series follows a man who discovers an ancient artifact that immediately sweeps him into a world much larger than his own, and changes his life forever. The first episode debuts today.
"Meridian" is an action-adventure, fantasy series directed and co-written by Joe Penna. Jeff (Orlando Jones, MADtv, Office Space, The Replacements) stumbles upon a mysterious cell phone, which leads him on a mission to find the owner, Alan Greggs (Rick Overton, Willow, Amazing Stories, Million Dollar Mysteries). Over the course of his journey, Jeff uncovers an ancient artifact that Alan has been using to try to avenge his son's tragic death. The audience is taken along for the ride with Jeff as he tries to solve a deadly mystery.
"Meridian" leverages cutting-edge technology of the RIDES.tv multiscreen entertainment platform and offers an experience that brings this mystery to life. The audience becomes a part of the story, and their cell phone becomes an interactive prop, engaging participants more deeply into the action than ever imagined.

The RIDES experience turns the audience's cell phone into a "proxy" for the "magic" phone they see on screen, actually turning it into an interactive prop from the show
Viewers receive phone calls, text messages, system messages, and vibration alerts just as the character's phone does, giving the audience access to additional features like the desktop, photo library and maps
VFX video and audio clues prompt the audience to experience visions of the character's past and future
"I'm thrilled to have created and directed this project with the Fourth Wall Studios team," said Joe Penna. "I've always tried to push the creative boundaries of the mediums I work in, and Fourth Wall Studios' technology really empowered me to tell the kind of interactive, immersive story I've always wanted to tell."
Best known as artist MysteryGuitarMan on YouTube, Penna's prodigious musical talents have entertained fans around the world. His videos, featuring popular music played in unconventional ways, have earned him over 359 million views and over 2M subscribers on YouTube.
"We teamed up with Joe and his network Big Frame because of a shared vision we hold for the power of digital media and interactive storytelling on the web," said Jim Stewartson, CEO, Fourth Wall Studios. "The release of 'Meridian,' Joe's directorial debut, is just one example of the production partnerships we are pursuing to proliferate and develop original content on our RIDES.tv platform."
Viewers can access all of Fourth Wall Studios' content including "Meridian" for free at http://www.RIDES.tv. Like RIDES on Facebook, follow Rides on Twitter or add to your circles on Google+.
Viewers can follow Joe Penna at mysteryguitarman.com, on YouTube at youtube.com/mysteryguitarman. Like Joe Penna on Facebook or follow him on Twitter at @MysteryGuitarM.
ABOUT FOURTH WALL STUDIOS
Fourth Wall Studios develops, distributes and markets content that crosses the traditional barrier between audience and onscreen action, resulting in entertainment experiences that are more connected, immersive and real. Founded in 2007 by three award-winning, next-generation storytellers, Jim Stewartson, Elan Lee and Sean Stewart, the venture-backed, Culver City, CA-based company develops a wide range of interactive entertainment properties designed for RIDES.tvsm, their proprietary transmedia entertainment platform. RIDES are immersive, narrative experiences that deliver an unfolding story across multiple screens via web browsers, smartphones and tablets.
Their first major series for RIDES, "Dirty Work", recently won a Primetime Emmy® Award for Outstanding Creative Achievement in Interactive Media: Original Interactive Television Programming.
ABOUT JOE PENNA A.K.A. MYSTERY GUITAR MAN
Joe Penna is a successful, young director originally from São Paulo, Brazil. Penna began his career on YouTube during the recession when he decided, with the lack of editing jobs in Boston, to take a road trip to LA. Within a matter of months his channel, MysteryGuitarMan, rose from obscurity to become the tenth most subscribed of all time. His visionary style and playful content has pushed YouTube videos out of the realm of user-generated content and into the world of independent art. He is a one-man production team who directs stop motion and looping music videos. Penna believes in online distribution platforms because they allow him the ultimate freedom to create innovative content and the ability to include his audience in the creation process. Penna was selected as one of the top 10 new directors of 2010 at the 20th Cannes Lions Saatchi & Saatchi New Directors' Showcase with "T-Shirt War. His breakout video "Guitar: Impossible" was also selected for the YouTube Play Shortlist, a collaboration between YouTube and the Guggenheim Museum. He currently lives in Los Angeles and is part of Big Frame's network.
PRESS CONTACTS:
Gillian Smith (323) 822-4800 gsmith@id-pr.com
Judy Merrick (323) 822-4800 jmerrick@id-pr.com
(For Joe Penna) Jocelyn Johnson (347) 389 – 5577 jjohnson@jjdigitalpr.com
###