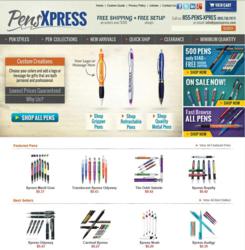 very effective and cost effective way to market your business through imprinted pens.
(PRWEB) November 13, 2012
Rudy Oswald, media contact, was asked about the new website. "We decided to revamp and improve our website for our 10 year anniversary as a company. We have been working on it for some time and wanted to make the site easier to navigate and added more bandwidth to make it super fast when moving from page to page. We know the importance of having a website that allows customers to find what they need quickly on a website and one that moves fast."
What kind of promotional pens does PensXpress.com produce? "We can handle any kind of marketing promotion pens including birthdays, baby showers, breast cancer awareness, parties, religious events, hotels and resorts, restaurants, universities, and many others. No matter what the event or marketing campaign is and no matter how big or small, we have Personalized pens Low minimum required that we offer for smaller companies that want to market in a cost effective way", said Mr. Oswald.
"In addition, we have different types of pens a company can select from including metal pens, logo pens, stick pens, gripper pens, and jumbo pens to name a few. Pens used as marketing tools work, this has been proven through the years along with other promotional items. It is not uncommon for someone who was not part of the target market to end up with a marketing pen and the person goes on to become a new client. Why? Pens travel. People pick one up from the doctor's office, they leave it with someone else and it continues exchanging hands all the while getting the company more exposure", Mr. Oswald added.
Promotional items such as pens have been used for many years and even with the rise of the Internet appears to be making a strong comeback. Many future customers find a specific company due to a promotional item and because pens are a cheap, it is a great way for small businesses to take part in marketing without breaking the bank. "This is absolutely true! Our clientele consists of very large corporations, start up companies, and everything in between. We cater to any size business. The point to promotion items is no matter the size of the company, it can gain exposure and brand recognition effectively without buying television air time or taking out large ads, which can be very costly", Mr. Oswald concluded.
About PensXpress.com Inc
PensXpress.com has been offering a very effective and cost effective way to market your business through imprinted pens. Promotional pens fall into many different hands and even with all the latest technology, everyone still reaches for a pen. The company offers free shipping along with set up on all orders over $100.
MEDIA CONTACT
Rudy Oswald
Matawan, NJ 07747
732-817-0077
info(at)pensxpress(dot)com
http://www.pensxpress.com