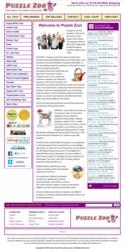 "We needed an edge to get our product seen and ranked highly on the Internet and if it meant creating a one of a kind web store, then so be it!" Jay Demircift, Puzzle Zoo CEO
Glendora, California (PRWEB) November 14, 2012
The Puzzle Zoo chain of retail toy stores now has the distinction of inhabiting the only large scale statically coded eCommerce online store on the web. After opening its doors in 1993, Puzzle Zoo moved beyond its initial focus on puzzles and action figures, expanding to encompass over 12,000 products including a wide array of unique and distinctive toys. Twenty years ago Puzzle Zoo was the first toy store in the Southern California market to introduce the wildly popular Power Rangers toy phenomenon at its flagship location at the Third Street Promenade in Santa Monica, CA.
SEO specialists universally agree that static code (set in stone HTML pages) are much friendlier to search engines than dynamically generated code (i.e. a particular web page is created when you click to view it). Due to limitations with static code technology, all large scale eCommerce sites are generated dynamically. What makes Puzzle Zoo's new web store different is that it employs static HTML pages for its extensive site, making it the only large scale statically coded eCommerce store on the Internet.
"Even though we have many unique and unusual items, when you are selling toys, you are competing with some of the largest and most aggressive retailers in the world," explains Puzzle Zoo's CEO Jay Demircift. "We are up against Amazon, Walmart, Toys"R"Us, and eBay. We needed an edge to get our product seen and ranked highly on the Internet and if it meant creating a one of a kind web store, then so be it!"
The innovative statically coded Puzzlezoo.com presented many challenges to their SEO consultants, Handmade4you.com. Handmade4you.com's Frank Rogala emphasizes, "Not only did the statically coded store need to perform like a dynamic store, it needed to be reasonably easy to administer. We had to develop so many new techniques and workarounds that we aren't shy about letting people know what we are doing behind the scenes. Duplicating this engineering feat won't be easy to do, there are just so many things that a dynamically generated store does easily. From the start we either had to give up things that most eCommerce stores take for granted, which was not an option, or figure out how to reverse engineer many of the simplest functions from the ground up."
"In public statements, Google has announced that in the coming year the majority of people accessing the web will be using mobile devices," explained Rogala, "because of that it was important for us to make the new Puzzlezoo.com mobile friendly. By creating a simplified overall online store we did not have to maintain both a mobile and a conventional site. Operating both of those sites would have also resulted in splitting up the store's overall traffic. As it sits, the new Puzzlezoo.com is engineered to work equally well no matter the OS, browser or device.
As part of this technology overhaul Puzzle Zoo has networked its retail stores, warehouse and web store. It accomplished this by equipping their brick and mortar storefronts (located in California and Texas) with point of sale systems that interface with NetSuite's cloud based accounting/ERP, CRM business systems which also connects with their online store. Demircift explains: "This means that no matter if a toy sells from our store in Texas or the online store - it can be immediately tracked for restocking and/or shipping from our warehouse in Glendora, CA,"
Just as in its seven retail stores, online shoppers will find a wide and diverse variety of puzzles, action figures, collectables, exclusively licensed brands, games, magic illusions, hobby kits and supplies, stuffed animals, dolls, children's software and specialty toy lines not found at other retailers. Puzzle Zoo carries the popular licensed products customers ask for, including Star Wars, Spider-Man, G.I. Joe, Transformers, and McFarlane Sportspicks; in addition to smaller unique brands.
You can experience Puzzle Zoo at the flagship store on the 3rd Street Promenade in Santa Monica, at South Coast Plaza in Costa Mesa, in The Village at Pacific Palisades, on Melrose in Los Angeles, on Main Street in Santa Monica, in Westfield Valencia Town Center, at their newest location at NorthPark Center in Dallas, Texas or online at http://www.PuzzleZoo.com.